Decorate your Home for Halloween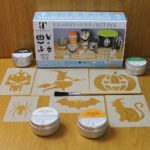 Although there won't be much Trick or Treating going on this year you can still celebrate at home. Using a Peelable Glass Paint Halloween Stencil Craft Pack is the perfect way to decorate your home and re-use or upcycle old items.
Thorndown's Peelable Glass Paint is made from a 100% recycled plastic resin, is low in odour, has virtually no VOCs and is non-toxic making it perfect for kids. Being water-based it's also really easy to clean up with just water but don't let your brushes dry out as that makes it a lot harder to remove and don't wear your Sunday best as paint likes to stay on clothes. The best part is that when Halloween is over you just peel the paint off your windows and mirrors to remove it!
Make a spooky scene on windows and glass doors, or create scary tea lights and Halloween treat jars using old jam jars and plastic pots. Thorndown Peelable Glass Paint Halloween Stencil Craft Packs include 4 x 40ml pots of paint in Bat Black, Goblin Green, Ogre Orange and White Witch, reusable stencils made with a durable 190gsm acetate sheet, and an art brush.
Paint old glass jars and plastic pots then fill them with spooky treats for the kids. Rather than going out with a Trick or Treat bucket you could do a treasure hunt at home for the kids to fill their buckets with. Glass lanterns are perfect for decorating with spooky stencils and you can even pour Peelable Glass Paint out to let it dry and cut out Halloween shapes to create window clings that stick on windows and mirrors. Visit the Window Clings project page for tips on how to do this.
Use discount code HalloweenCP for 25% off at our online store. Just enter the code in the voucher box in your basket and save £5!