Thorndown Stockist and Partner Profiles
Although we sell predominantly online direct to our customers, we are happy to be working with some lovely stockists, resellers and partners that use, sell and promote our paints.
On this page we share profiles and pictures from some of our stockists and partners.
Blue Diamond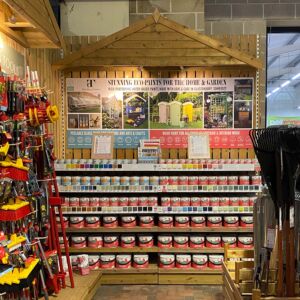 This fantastic national garden centre chain has a strong horticultural heritage from the man at the helm, Alan Roper, who is greatly respected within the industry.
Their garden centres have a great stock of plants and are brimming with lovely gifts and goods often from local and independent suppliers.
We are very proud to have been selected as a supplier to Blue Diamond and our local Cadbury Garden Centre in Congresbury, now stocks a wide variety of our Wood Paint and Peelable Glass Paint.
Throughout 2021 we will be appearing in more stores up and down the country giving a great retail option for buying our paints.
We will add location listings as we appear in-store!
Wood&Space
Sat in the beautiful county of Devon is this very posh shed company that specialises in designing and building the most stunning bespoke sheds and timber buildings.
Wood&Space can make whatever your imagination comes up with as long as it's physically possible and not too large! These elegant sheds are designed to enhance the garden and built to last. And of course painted with Thorndown Wood Paint helps to protect the timber so it looks fabulous and can last a lifetime.
They are installed with such care that they look as if the garden has been designed around them. This shed painted in Thorndown Yew Green Wood Paint has many attractive design features from the cedar shingle tiled roof to a stable door and sash windows painted in Thorndown Tor Stone. Painting the main body in a dark colour helps it to disappear into the planting and sit with the boundary fencing, whilst the contrasting lighter wood paint colour on the door and windows accentuates the design features and brightens the building drawing your eye to it.
This shed painted in Bishop Blue Wood Paint perfectly compliments the surroundings and takes you into the open landscape beyond. The building also has many attractive design features from the star cutout to the gable detailing above the door and attractive landscape picture windows along the side wall. For the natural look you can leave timber unpainted but paint it with a couple of coats of our UV Clear Wood Paint to seal it with a water-repellent coating and protect the wood from the weather. The UV blockers will also prevent fading of the timber colour from the sun's rays.
Quality of service is high and design and build is carried out to offer the best value for money, with sheds being installed from Devon to London and up in Edinburgh. Steven sees using Thorndown Wood Paints as part of his high-quality package and said that he's "exclusively using your paints from now on, they are so much nicer to apply than others, it almost makes painting a pleasure, almost mind!". For more information and images of builds please visit their website woodandspace.co.uk.