Thorndown Stockist and Partner Profiles
Although we sell predominantly online direct to our customers, we are happy to be working with some lovely stockists, resellers and partners that use, sell and promote our paints.
On this page we will be sharing profiles and pictures from some of our stockists and partners.
Middlecombe Nursery
This brilliant nursery is known for its horticultural expertise and extensive selection of plants from shrubs, perennials, climbers, grasses, conifers and trees, many of which are grown on site. It's a friendly family affair run by Nigel and Isy with daughters Leigh and Becky, plus a small team to help them.
In 2018 they started an expansion of the retail side of the nursery building a Wildlife Den (painted in Thorndown Bilberry Blue and Dulcote Stone wood paint), Plant Care Cabin (painted in Anthracite Grey and Dulcote Stone wood paint), The Paint Pot (painted with our Bilberry Blue and Golden Somer wood paint), and opening a great cafe called CUPPA (benches painted in Dormouse Grey with counter in Blackthorn). Located near to Bristol this is the perfect nursery for plant lovers and shoppers to visit, where you know you'll be greeted with a smile and can relax with a fab cup of coffee and cake.
Address: Middlecombe Nursery, Wrington Road, Congresbury, North Somerset, BS49 5AN
Tel: 01934 876337
Email: middlecombenursery@hotmail.com
Website: middlecombenursery.co.uk
Leigh from Middlecombe Nursery says "It's been really fun selecting colours from the Thorndown wood paint range for our nursery development projects. As an eco-conscious business, it's great to be able to use a range of paints that not only offer high-performance, but they're also friendly on the environment and an absolute pleasure to use, as well as offering a beautiful variety of colours."
Taunton Sheds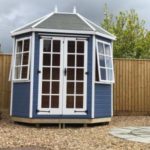 Taunton Sheds and Toys are makers of fine summerhouses, sheds and garden rooms that adorn many gardens throughout Somerset, Devon and Dorset, although they can supply to other areas too! For over 15 years they have specialised in quality, affordable buildings, along with great customer service and support. Friendly and knowledgeable with an eye for design they're a great choice that you can rely on.
Since meeting at the Toby Buckland Powderham Castle festival in 2018, Taunton Sheds have been selling and using our Wood Paint ever since and are delighted with the range, as are their customers. Taunton Sheds say "Thorndown Paints are now our preferred Paint Suppliers…. we as a company  offer our customers a unique 'in-house' painting service for garden sheds and summerhouses. To achieve the quality of finish that is acceptable we now use and recommend Thorndown Paints.  The range of colours is extensive from subtle pastel shades to bright vibrant colours. Coverage is superb and the finish on planed timber is second to none, the finished surfaces have a very pleasing semi-gloss texture which gives a highly professional finish on the products painted (Spray or Brush application). We have no hesitation in recommending Thorndown Paint Products."
Below are some of the buildings they have created and painted with Thorndown Wood Paint.
Address: Taunton Sheds and Toys, 5 Courtlands Industrial Estate, Norton Fitzwarren, Taunton, Somerset TA2 6NS
Tel: 01823 334495
Email: sales@tauntonsheds.co.uk
Website: tauntonsheds.co.uk
Online Resellers
We are very happy to be featured in the online stores for: