Thorndown Stockists & Partners
Roundpeg Outdoor Buildings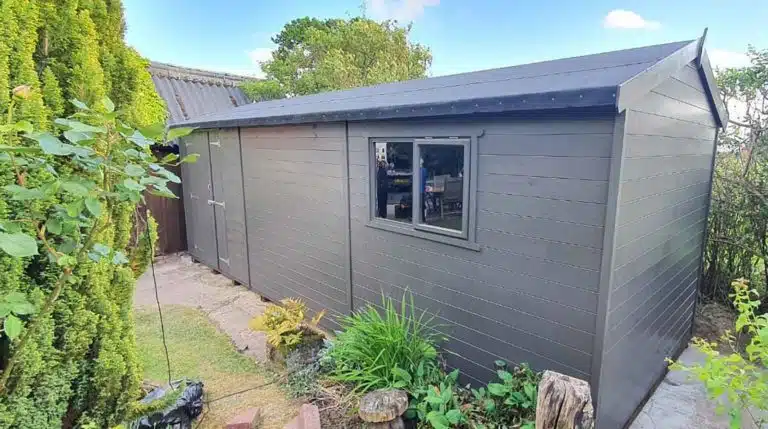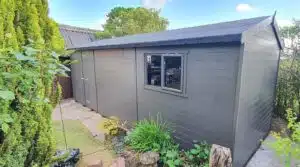 Roundpeg launched at the start of 2000 with over 30 years combined experience in the industry. The first 2 years in business were difficult but exciting with Brexit and a global pandemic to contend with. 
They have found their niche in offering bespoke and standard buildings as well as a friendly and knowledgeable service to customers. The company will make anything from the smallest BBQ shelter to big garden rooms, to use all year round.
They offer a factory spray painting service on all the buildings, and with the garden rooms this is provided within the price. All customers receive the excellent colour cards from Thorndown and once they have narrowed their choice down, small painted samples are sent so the customer knows exactly what they will be receiving on the day their building is fitted.  
They use Thorndown because the paint is made in the UK, it is environmentally friendly, a quality product that lasts and Thorndown are such a nice company to deal with, nothing is too much trouble.
For more information and images of builds please visit their website roundpegoutdoorbuildings.co.uk
This fantastic national garden centre chain has a strong horticultural heritage from the man at the helm, Alan Roper, who is greatly respected within the industry.
Their garden centres have a great stock of plants and are brimming with lovely gifts and goods often from local and independent suppliers.
We are very proud to have been selected as a supplier to Blue Diamond and our local Cadbury Garden Centre in Congresbury, now stocks a wide variety of our Wood Paint and Peelable Glass Paint.
Throughout 2021 we will be appearing in more stores up and down the country giving a great retail option for buying our paints.
We will add location listings as we appear in-store!
Sat in the beautiful county of Devon is this very posh shed company that specialises in designing and building the most stunning bespoke sheds and timber buildings.
Wood&Space can make whatever your imagination comes up with as long as it's physically possible and not too large! These elegant sheds are designed to enhance the garden and built to last. And of course painted with Thorndown Wood Paint helps to protect the timber so it looks fabulous and can last a lifetime.
They are installed with such care that they look as if the garden has been designed around them. This shed painted in Thorndown Yew Green Wood Paint has many attractive design features from the cedar shingle tiled roof to a stable door and sash windows painted in Thorndown Tor Stone. Painting the main body in a dark colour helps it to disappear into the planting and sit with the boundary fencing, whilst the contrasting lighter wood paint colour on the door and windows accentuates the design features and brightens the building drawing your eye to it.
This shed painted in Bishop Blue Wood Paint perfectly compliments the surroundings and takes you into the open landscape beyond. The building also has many attractive design features from the star cutout to the gable detailing above the door and attractive landscape picture windows along the side wall. For the natural look you can leave timber unpainted but paint it with a couple of coats of our UV Clear Wood Paint to seal it with a water-repellent coating and protect the wood from the weather. The UV blockers will also prevent fading of the timber colour from the sun's rays.
Quality of service is high and design and build is carried out to offer the best value for money, with sheds being installed from Devon to London and up in Edinburgh. Steven sees using Thorndown Wood Paints as part of his high-quality package and said that he's "exclusively using your paints from now on, they are so much nicer to apply than others, it almost makes painting a pleasure, almost mind!". For more information and images of builds please visit their website woodandspace.co.uk.
From Trowbridge in Wiltshire this fabulous company offer a fantastic range of high quality garden buildings and structures, from beautiful gazebos to garden sheds, buildings and garages. Their designs are innovative and impressive and to go with their quality offerings, they recommend painting with Thorndown Wood Paint as being a brand they trust.
One of the directors created her own allotment hideaway to store tools and admire her plot from when the rain sets in. Council and allotment rules are strict so the design had to be practical and appealing. Restrictions on colours were also strict but luckily the council and other allotment goers approved of Bishop Blue wood paint as a stylish and complimentary colour choice.
It sits perfectly in the allotment surrounded by a very plentiful plot, bursting with colour and life.
You can see more examples of Garden Affairs buildings painted in Thorndown Wood Paint in our Projects area under Sheds/The Natural Look with a very pretty shed painted in Sedge Green and a Man Mansion in Ash.
Explore the full range of Garden Affairs buildings on their website garden affairs.co.uk or visit their show site at Trowbridge Garden Centre, 288 Frome Road, Trowbridge, Wiltshire, BA14 0DT. If you're not in the area then they have a virtual tour on their website, showcasing some of their brilliant buildings.
Jacks & Stripes are a pretty talented and unique signmaking husband and wife business in Taunton, Somerset. Their signs range from business signs to decorative ones for the home and garden such as their very popular Indian Sunset sign shown on the left. They first came across Thorndown Paints when (local legend) John Tucker Carpentry made us a display stand.
Here's what Gordie from Jacks & Stripes has to say about us: "We're a not-very-secret fan boy and girl of John Tucker and so had to check out Thorndown in more detail. When we discovered that they too are one of the weird married couples who actually work together and that their paint – like our signs – is handmade in Somerset, we were bound by fate to use them forever more, amen! The best part about it is the service is lightning quick and the paint is easily the best we have used since we made our first home gift signs back in 2011.
Working in a small workshop, the fact that the paint is odourless is a real bonus. The versatility and resistance to weather makes it a great choice for our outdoor signs too. We've used it on anything from a hanging pub sign at The Ring of Bells pub in Taunton to a full camping interior for a 1978 VW bus we've restored. If you want to truly shop local this Christmas, give us a shout. We love making bespoke signs, especially at this time of year! Email us hello@jacksandstripes.com and follow us on Instagram to see our latest creations."
Jacks & Stripes: The Ring of Bells pub sign
The background was painted in RAL 160 30 10 Exclusive Green for a traditional range car green look, then Mandi hand painted the rest of the sign using One Shot enamel sign writers paint for the lettering and details.
Jacks & Stripes: 1978 VW Bus
Interior mdf units painted with RAL 1013 Oyster White
Jacks & Stripes: Paw Play signs
Painted in Swan White Wood Paint
This gorgeous gift company started life as a hobby for Michele as she made these attractive gifts for family and friends. As word got out and people saw images on Facebook and Instagram, Michele had more and more requests to make these gift crates.
Michele says about Thorndown Wood Paint "I really do love your paints & I'm so happy I found you!  I'm passionate about my product & the service I give & I won't compromise on quality. Your paints have the most amazing finish,  the colours are the best & are super quick drying. The tester size pots for small  jobs are just great, they're generous in size & really go a long way! (& I can get a brush in….great plus!!) Your service has always been fast friendly & efficient."
Initially Michele hand painted all of the copy but now gets a local printer to produce the lettering giving consistently professional results.
It makes us really proud and happy to be working with such talented people producing beautiful items, and delighted that professionals love our paints us much as we do.
Below is a selection of gift crates Michele has made. You can see more on Michele's Facebook and Instagram pages.
This brilliant nursery is known for its horticultural expertise and extensive selection of plants from shrubs, perennials, climbers, grasses, conifers and trees, many of which are grown on site. It's a friendly family affair run by Nigel and Isy with daughters Leigh and Becky, plus a small team to help them.
In 2018 they started an expansion of the retail side of the nursery, building and developing a great cafe called CUPPA. They fell in love with our Wood Paint and have been using it to decorate the nursery inside and out. Located near to Bristol this is the perfect nursery for plant lovers and shoppers to visit, where you know you'll be greeted with a smile and can relax with a fab cup of coffee and cake.
Address: Middlecombe Nursery, Wrington Road, Congresbury, North Somerset, BS49 5AN
Tel: 01934 876337
Email: middlecombenursery@hotmail.com
Website: middlecombenursery.co.uk
Leigh from Middlecombe Nursery says "It's been really fun selecting colours from the Thorndown wood paint range for our nursery development projects. As an eco-conscious business, it's great to be able to use a range of paints that not only offer high-performance, but they're also friendly on the environment and an absolute pleasure to use, as well as offering a beautiful variety of colours."
Taunton Sheds and Toys are makers of fine summerhouses, sheds and garden rooms that adorn many gardens throughout Somerset, Devon and Dorset, although they can supply to other areas too! For over 15 years they have specialised in quality, affordable buildings, along with great customer service and support. Friendly and knowledgeable with an eye for design they're a great choice that you can rely on.
Since meeting at the Toby Buckland Powderham Castle festival in 2018, Taunton Sheds have been selling and using our Wood Paint ever since and are delighted with the range, as are their customers. Taunton Sheds say "Thorndown Paints are now our preferred Paint Suppliers…. we as a company  offer our customers a unique 'in-house' painting service for garden sheds and summerhouses. To achieve the quality of finish that is acceptable we now use and recommend Thorndown Paints.  The range of colours is extensive from subtle pastel shades to bright vibrant colours. Coverage is superb and the finish on planed timber is second to none, the finished surfaces have a very pleasing semi-gloss texture which gives a highly professional finish on the products painted (Spray or Brush application). We have no hesitation in recommending Thorndown Paint Products."
Below are some of the buildings they have created and painted with Thorndown Wood Paint.
This lovely company design and manufacture a beautiful range of bike sheds from their bases in Bristol. Every building is hand built using sustainable UK Douglas Fir timber so that they look great and last for years and years.
They spray paint the majority of their builds with Thorndown Wood Paint colours selected by their customers. It delights us that they think our wood paint is of the highest quality and is also really easy to spray, producing a great finish and colour definition.
Their customers also benefit from the fact we can supply them with over 1800 colours from the RAL Classic and Design ranges in addition to our colour chart.