Glastonbury Mural Trail
It's not every day that you get to work with an international artist, so it was an utter privilege to have someone as talented as Jonathan Minshull work with our Wood Paint.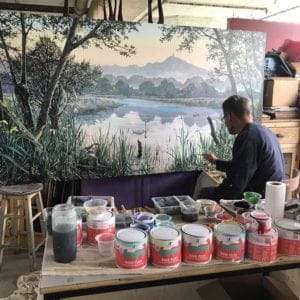 Somerset Art Weeks is a well anticipated highlight on the events calendar of art enthusiasts, seeing artists' studio doors thrown open to the public across the county. This year Glastonbury is joining in with a trail of its wonderful and unique murals that adorn the town. It runs from Saturday 21st September to Sunday 6th October and provides a great opportunity to meet artists and buy direct from them.
The Glastonbury Mural Trail is being put together by artist Kim von Coels of  The Krumble Empire, Glastonbury Town Council and the Glastonbury Chamber of Commerce and Tourism. It will lead visitors through the colourful town, taking in the works of art that help make Glastonbury so unique.
Known for its individuality, Glastonbury is often a beacon for creatives and we are delighted that the town has got behind this mural trail. A mural was commissioned to mark the start of the trail in the main car park outside the information centre. Kim enlisted renowned artist, Jonathan Minshull, who has produced many stunning pieces during his career including numerous murals in the UK and California.
Jonathan has worked in various mediums including oils and acrylics but this was his first time working with a wood paint. Using marine ply wood as a canvas, and a local artist studio as a base, Jonathan created his mural of the Avalon marshes.
After a little experimenting and familiarising with the nature of the wood paint, he found "the paints really good to use and have a real vibrancy in the flesh". The way that he worked with the paint was very reminiscent of an oil painting. Jonathan used a selection of 11 colours from the core colour chart and a bright grass green selected from the RAL Design colours to build his main palette, mixing together colours to create every shade.
He found the strength of the colour pigments really high and the quality of the finish to surpass that of traditional oil paints, so his future external murals may well be created with Thorndown Wood Paints!
The final piece is a stunning representation of the marshes so akin with Somerset, with the iconic Glastonbury Tor in the background and local wildlife celebrating the vibrant nature in these parts.
The Avalon Marshes Mural was unveiled on Tuesday 6th August at St Dunstan's House, 1 Magdalene Street where the Glastonbury Tourist Information Centre is housed.
We will post updates on the mural trail (set to officially launch on Friday 20th September) and Somerset Art Weeks, which looks set to be a very special silver anniversary edition. The free brochure to accompany Somerset Art Weeks is now out so you can peruse listings and plan your visits.
It was an honour to be a sponsor for the Glastonbury Mural Trail with Thorndown Paints, supporting a fantastic event for the town and working with such a wonderful and talented artist, so much so that we ended up sponsoring another mural to be painted on a wall by the fabulous artist Faye Suzannah!!