PLASTIC
Plastic can be a fantastic material but as with everything connected to the modern human world, only when made and used responsibly.
RECYCLED PLASTICS RESIN
We use a high-performing sustainable paint resin made from recycled car windscreens and laminated building glass. Car windscreens formerly went into landfill, but a clever company developed the technology to separate the glass from the laminate and recycle it. The laminate then gets made into our resin from which we make the paint.
Our Peelable Glass Paint is made with a 100% recycled plastic resin, giving it the unique peelable quality. When left the resin creates a highly durable and water-repellent coating so we also blend this recycled plastics resin together with a high performing ten year modified acrylic resin to create our unique Wood Paint.
So every time you use on of our paints you're re-using some old plastic!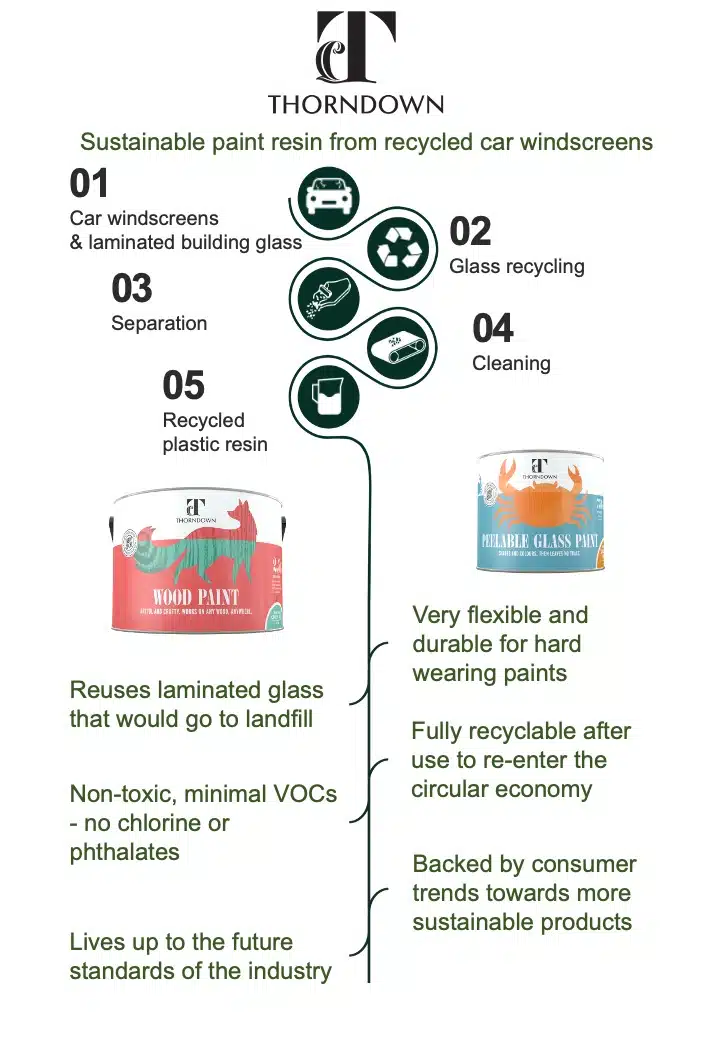 PACKAGING
All of our paint tins are fully recyclable and we use FSC cardboard boxes. Tins are protected in transit with cardboard moulds or shredded card that can be recycled or put on your home compost heap. When we use fill it is one that is made from starch and therefore compostable.
We don't use any single use plastic unless absolutely unavoidable and in this rare instance it would be recyclable. Many courier companies understandably insist on paint tins being  packaged inside a plastic bag so if there is a handling accident, the paint doesn't spill everywhere. The plastic that we use is fully recyclable.
Raw materials come to us in plastic containers that are all either re-used or recycled. Nothing gets wasted or goes into landfill.
Pallets have to be wrapped in plastic film to stop containers and/or boxes from falling off the pallets but this film is recyclable and all wrap that comes to us on pallet deliveries is recycled.