Timber Decking with thorndown wood paint
Decking is like a high-maintenance lover. It's a timber garden product that you can't just paint and leave for years without having to do any maintenance to like a shed or fence.
Due to the nature and position of the product (being a horizontal surface) it suffers a lot more wear and tear from foot traffic, wear and exposure from the weather with rain beating down on it then sitting on it for hours or days, ice freezing it, and the sun shining on it with its full intensity.
So, the paint or stain coating is going to degrade faster than on a nice vertical surface that doesn't get trodden on and the rain just slides off. This means that even when you use a really good quality wood paint such as Thorndown, you're still going to need to maintain the coating every 1-2 years.
 Thorndown Wood Paint is a high performing water-based eco paint specifically engineered for exterior timber, so is the perfect wood paint for timber decking. It is made with a highly durable acrylic resin and VOC free architectural exterior-grade colour pigments that last for years.
Transform your decking disaster into a delightful decking area with these handy tips and advice.
Preparation and Painting Advice 
Standard rules apply when it comes to preparation and painting of decking boards but making sure your decking boards are dry prior to painting is essential.
Decking boards retain and hold a lot of moisture as the boards tend to be fairly thick, and moisture gets trapped underneath them so even though the top looks dry, the moisture content can still be too high. If you paint wood paint onto timber that is damp (should have a moisture content of <20%) then the paint won't fix and bond properly, leading to peeling and lifting, or premature failing of the coating.
Painting at the end of a good spring or in the summer to late autumn is ideal as there should have been enough hot and dry spells to dry out the decking timbers all the way through. Investing in a protimeter to measure levels of humidity in surfaces can save you a lot of time and effort in the long run. You can pick them up pretty cheaply and they'll give you an accurate picture of what's going on under the surface.
Standard Advice
Clean thoroughly making sure all surface residues (dirt and algae) are removed. Remember if you're using a power washer then you'll need to leave it for a long time to dry thoroughly as the jets push large volumes of water deep into the timber
Check the moisture content to make sure it's less than 20%
Remove any loose old paint or stain coatings by sanding then clean off dust. If the previous coating is sound then skip this stage and just make sure it's clean and dry, then paint straight on top with Thorndown Wood Paint or Stain Blocking Primer if required
Paint on a stain blocking primer if you're painting a light colour onto new decking and don't want any tannin stains or resin bleeds to show through. Leave to dry
Get the paint you've chosen and stir thoroughly before and during. You can buy sample tins to make sure the colour you select is exactly what you want
Apply a coat with a sprayer, roller or brush, but make sure you get the paint well into all of the nooks and crannies, in between the grooves on the decking board surface, and in between the boards so you get the sides too. I prefer to use a brush so I can work the paint in really well
Leave to dry. Thorndown Wood Paint will be touch dry in about 30 minutes to an hour in decent dry warm weather and ready to paint on a second coat if you like. A second coat will increase the intensity and solidity of the colour and will increase the durability of the coating so can help it last longer
Avoid walking on it for 24 hours after painting as although the coating will be touch dry it will still be curing (turning nice and solid) so you don't want to mark it while it's still soft
Decking Maintenance
In this decking area shown below, the decking had been treated with an oil based product and not maintained so it was in a bit of a mess.
We used a power washer to blast off the dirt, algae and old coating. Once dried there was still a lot of loose old coating so we used a power sander to remove it, dusted and cleaned.
There was a section of decking that had rotted under an old planter. If the rot is extensive then it's best to cut out the affected section and replace with new decking board(s). The rot wasn't that deep so we decided to remove it with the power sander instead.
Maintenance Coat
Normally with decking you only need to paint on one good coat of wood paint as it needs maintaining every one to two years anyway. Although Thorndown Wood Paint lasts up to 8 -10 years on vertical surfaces, on decking it degrades and wears far quicker so keep it maintained with a good coat.
If you're painting a light colour then two coats gives greater depth and solidity of colour.
We painted this decking with a single coat of Thorndown RAL 7016 Anthracite Grey Wood Paint to give a strong classical base for the grey theme of the garden area. Just one coat looks fantastic!
Tutorial Video
Here's a short video that we put together showing how we carried out the maintenance on this decking. 
The decking boards and garden furniture below are in a coastal location, literally on the top of a cliff with the sea below. In exposed areas such as these we recommend 3-4 coats as they will be subjected to strong coastal winds with heavily salted water which will degrade the coating far quicker than in a standard garden. These were all treated with Thorndown UV Clear Wood Paint.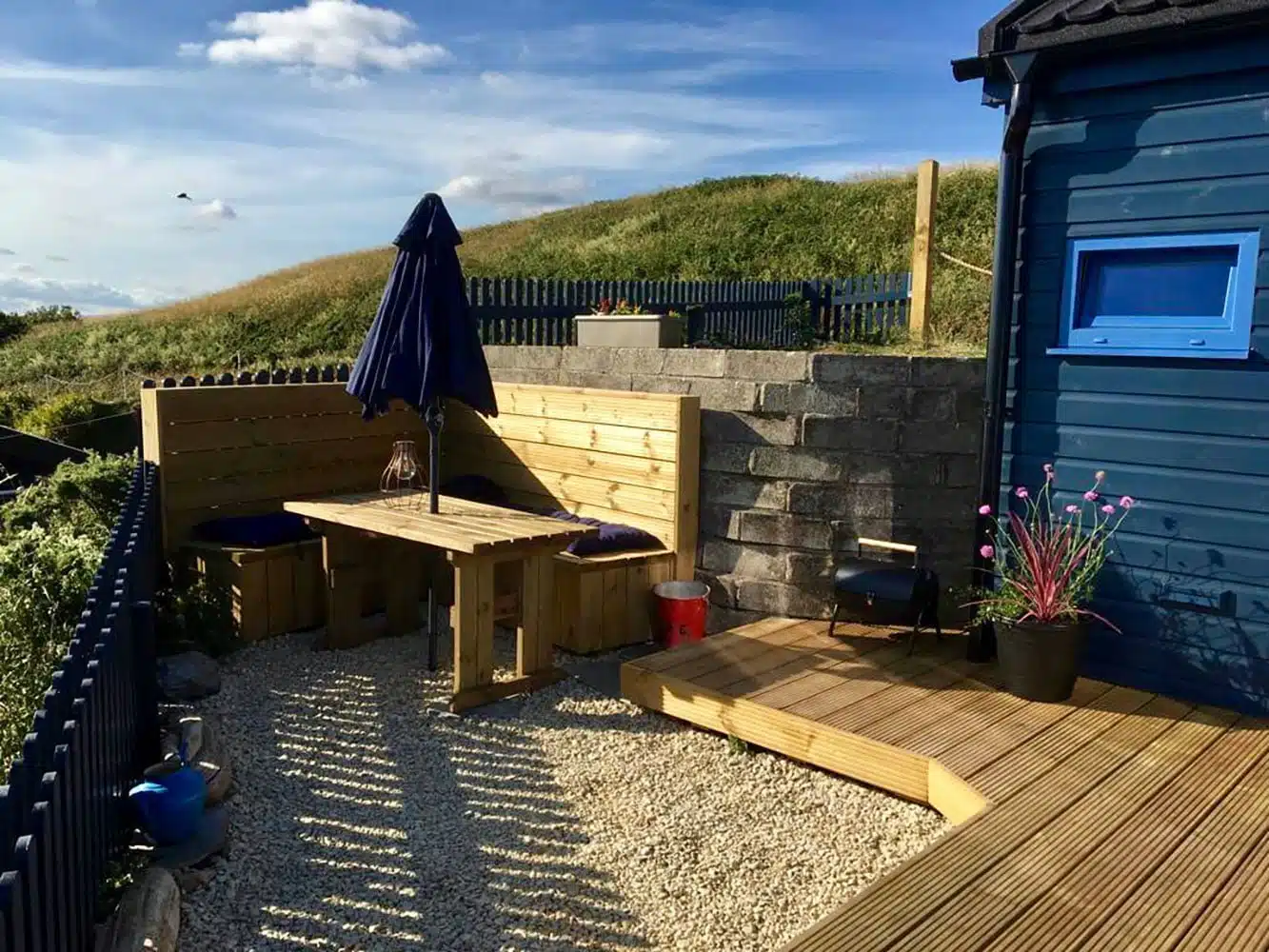 WOOD STAINS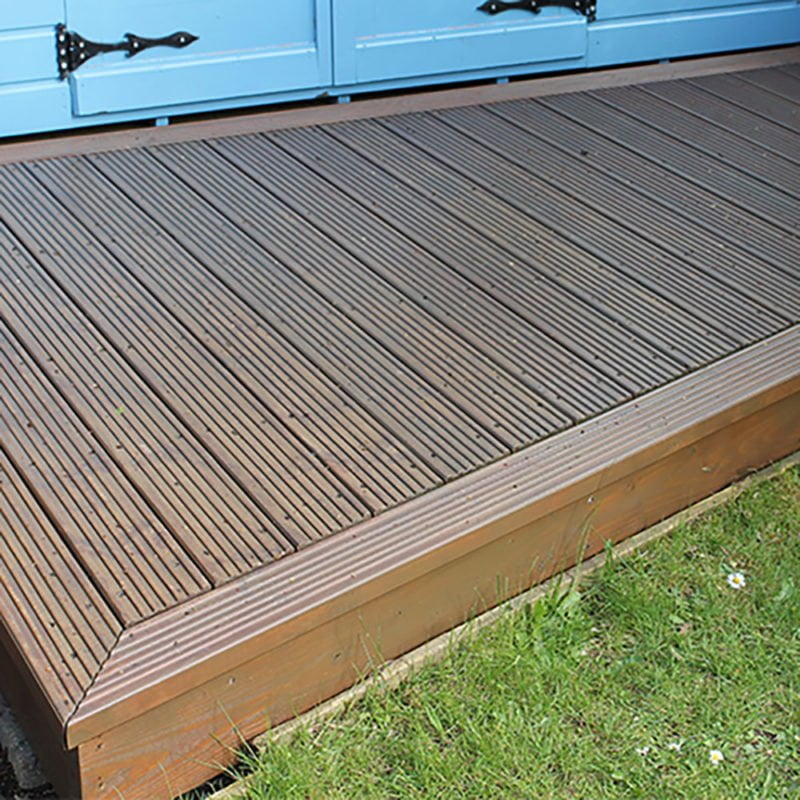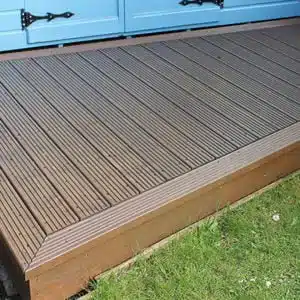 Wood stains sink more into the timber but also create a protective coating on the top and this protective coating will wear in exactly the same way. Drying times vary for other brand wood stain products depending on their quality, and oil products tend to have a much longer drying time (and are high in VOCs – volatile organic compounds – which aren't very good for the environment).
You can water down Thorndown Wood Paint by up to 50% to give you a nice stain/wash effect. It will soak deeper into the timbers and seal them, so will still offer protection.
It will affect durability of the coating so you can paint on 2 coats to help it last longer.
However, if you like the way it looks with just one coat, to increase the durability of the coating you can apply a top coat of our UV Clear Wood Paint. This is a proper clear and doesn't have a weird yellow hue as many other clears do. This would help to protect the stain coating, making it easier to clean and helping to extend the period before you need to do any maintenance.
Don't forget our range of wood tone translucent paints that give a natural wood look. You can also water these down to make the colour lighter and give more of a wood stain effect. This decking area was painted with Thorndown Rowan Wood Paint.
TANALISED/PRESSURE TREATED TIMBER
The majority of softwood decking boards are treated with a preservative chemical to prevent them from rotting for between 10-20 years.
Thorndown Wood Paint adheres well to tanalised timber. Normally you don't need to do much prep other than make sure the timber is clean and dry.
With tanalised timber the most important thing is the moisture content. During the treatment process, huge volumes of water are pumped into the timber and can take a long time to dry out. Some timber yards leave it to dry but with demand so high for timber caused mainly by the pandemic, Brexit and the war, many manufacturers are having to use freshly treated timber, so moisture content is still high.
If the moisture content is above 20% then the wood paint won't bond properly to the surface, leading to premature lifting/peeling of the paint. You can check moisture content using a protimeter, which you can purchase fairly cheaply.
Also as the wood dries out you will get shrinkage so gaps will appear in joins. If you've already painted then you'll just need to touch these areas up. Wood often expands and contracts for a long time so this can be something that just needs to be done, especially if you don't poke the paint into every nook and cranny.
The only other thing you may find are residues on the surface of the timber from the pressure-treatment process. Just brush these off or sand lightly to remove them before painting. You may also get pressure-treatment coming out of knots along with resin bleed but as this is a process that can go on for a long time, you either need to accept that this may happen, or apply a knotting agent over knots to prevent resin bleed, or a stain-blocking primer which blocks tannin stains and resin bleeds from discolouring the paint coating.
If the softwood timber you are using hasn't been pressure treated you will need to apply a wood preserver first otherwise the wood will rot pretty quickly in a decking environment. Remember to treat all 4 sides of the timber before building the deck otherwise you'll be exposing untreated softwood to all kinds of problems.
Luckily we have a water-based wood preserver that is very effective against rot and fungi, and provides a good primed surface ready for a top coat.
Sign up to our Mailing List for all of our latest updates, tips, tricks and advice for your next project.