NOT JUST HEARSAY – YOUR COMMENTS
What you think about our paints means a lot to us. We set out to make the best Wood Paint on the market and a revolutionary Peelable Glass Paint with great eco-credentials and versatility.

Here we share with you some customer comments.
Wood Paint

Just to let you know paint arrived this morning.  Thank you so much for such a wonderful service.  Its a fabulous paint. 
Mrs Diane Melody
Thank you for the speedy paint delivery
My old garage door now matches my new windows perfectly 
Thank you for a great service x
Nicky Hart
Super quick delivery and lovely paint to work with. Easy on, good coverage and low smells. At first i thought it definitely looked lighter than the colour on the colour chart card i had, closer to the cathedral green, but i see that in different light that it is indeed closer to sedge as ordered. In any case its a cheery green that goes particularly well with my newly resanded and oiled reddish brown doorstep. Thanks for the quick service 🙂 
Mike Hutchinson
Here's our front door painted in your fab paint! And the windowsill and the bin store.
Sue & Ian
All painted in Avalon Blue Wood Paint
We are so pleased with the paint, it covers amazingly well and the colour is fantastic.
Shawn Taylor
Playhouse and shed painted with Thorndown Wood Paint RAL 260 40 15 & trims plus frames in Swan White
I just wanted to say that I have just used the paint you sent and found it to be great to use, and has dried quickly with a great look and finish.
Carl Mills
We used your paint for the cladding on the dormer on our house earlier this year, and we were so happy with it we've ordered it again to repaint all our fences, sheds and the chicken shed to match!  It's wonderful stuff!
Lynsey Gilmour
I've purchased some of your paint recently and I have to say, it's incredibly good!
Many thanks
Vijay D
RAL 7016 Anthracite Grey before and after shots
I have just finished a project of front gates and fencing using your RAL1760 paint and I'm delighted with both the quality of the paint and subsequent end result.
Kind Regards
Mr Tom Cleugh
I'm delighted to tell you that the order I placed 23 hours ago has just arrived (in perfect condition as always)!
Regards
Adrian Horsnell
Thank you so much. This is the first time we have used Thorndown paint and it certainly won't be the last. The colours are great and the coverage is good. There's no dreadful paint smell, they dry quickly and the brushes are easy to clean. What's not to like.
Packing and delivery were very efficient too.
We loved the paint. Fantastic. We've been recommending this to everyone who's commented.
Alison Wallace
I just wanted to drop a line and say thank you for helping me to achieve the right colour for the interior of my greenhouse. The hazel colour of the table in the photo on your website was achieved by mixing it with the Orange you sent and am very pleased with the results now. The jet black on the outside is perfect with the rich colour on the inside.
Kind regards
Andrea Jackman
Wow Caroline, I got an email from APC yesterday and then the paint has been delivered this afternoon. I cant tell you how much I appreciate it. Very impressed and feel very special, thank you so much
Very Best wishes
Aniece Khamon
We've just painted the summer house – greymond satin.  We are really pleased with the quality of your paint and the colour is lovely.
Thank you also for the speedy delivery!  Especially during these difficult times.
Sarah Sparks 
My partner and I absolutely love your paint, the colour is amazing and the coverage, finish and quality is the best we've ever used, seriously.  We have tried every paint under the sun, but will only be using your brand for everything moving forward.
Warm regards,
Lee Johnson
I got my Anthracite Grey paint yesterday and have been really impressed with it. Cracking stuff; many thanks.
Pete McClellan
Thanks for the efficient delivery of the paint. I have used it this weekend on my allotment shed – was concerned in that it has previously been oiled but the product was a dream. Very impressed – performed well off the brush and the colour was exactly what I wanted – coverage and opacity is amazing – a joy to use!
The hands on experience has given me great enthusiasm for the product
Melanie Pursglove, The Vintage Paint Company
Have just received from you a 2.5litre can of the above, to paint my Anthracite Composite door surround/Inset between my Kitchen/Garage which was 12mm Hardwood Ply in Beech before your super Paint was applied.
I am so pleased with the result; perfect match and finish. Paint Quality was superb and it applies so easily with no brush marks and dries very quickly.
I would definitely recommend your company to all my friends etc. Keep up the good work. Many Thanks
Rod Whiting
---
"I found it really nice to use – it goes on well and spreads evenly, giving good coverage which is not being too thin or thick. And it was also really forgiving when working on wood that is rough or thirsty like parts of my fence. It dries fast which is great when working outside, but not so fast that you have to dilute the bottom of the tin (!).
So all in all I got the impression of a quality product, and I approve of the sustainable ethos, too."
Naomi Slade, Garden Journalist, Author, Designer & Consultant
---
'We used Thorndown paints which were so easy to apply, excellent quality and superb customer service. Given we only live down the road, they even delivered them on their way home. I thoroughly recommend them'.
Tony Johns
---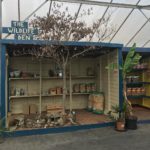 "It's been really fun selecting colours from the Thorndown wood paint range for our nursery development projects. As an eco-conscious business, it's great to be able to use a range of paints that not only offer high-performance, but they're also friendly on the environment and an absolute pleasure to use, as well as offering a beautiful variety of colours."
Leigh, Middlecombe Nursery
---
I love your paint!
Great coverage. Great colour. Great finish.
Kim von Coels, The Krumble Empire
---
APC couriers have just delivered the paint before I left for work. 
First class service, thank you!
Alec
'One coat was perfect, and great colours'
Ben Chandler, Creative Director FARLAM & CHANDLER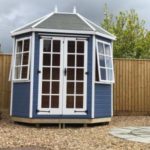 "Thorndown Paints are now our preferred Paint Suppliers…. we as a company  offer our customers a unique 'in-house' painting service for garden sheds and summerhouses. To achieve the quality of finish that is acceptable we now use and recommend Thorndown Paints.  The range of colours is extensive from subtle pastel shades to bright vibrant colours. Coverage is superb and the finish on planed timber is second to none, the finished surfaces have a very pleasing semi-gloss texture which gives a highly professional finish on the products painted (Spray or Brush application). We have no hesitation in recommending Thorndown Paint Products." 
Stuart, Taunton Sheds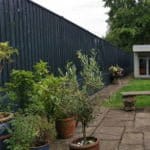 Wow your paint is stunning! I'm not the best at painting and I get bored but I so loved using your paint, it's really really lovely.
Annie Legge
Great quality paints in a large range of colours. Perfect consistency for HVLP spraying or handpainting, with excellent coverage and rich finish from two coats. Ben and Caroline are always happy to help and offer advice, and often deliver next day.
The Bike Shed Company
Here are a couple of pictures of the window. It's looking just as good as when it was painted a year ago.
If anything I think it's retained it's colour/finish a bit better than the Superdeck.
Patrick Finnemore
Peelable Glass Paint 
Gave the workshop a little Christmas cheer with my new Peelable Glass Paint from @thorndownpaints. Absolutely amazing stuff, goes on like a dream and covers really well even with just one coat, will definitely be investing in some more colours for future projects
artdesignsign via Instagram
Hi,  Just wanted to say thank you so much for the extremely efficient service you provided.
My order which you didn't receive until yesterday afternoon, arrived at 9am this morning.
Janet Carman
Two coats have really helped reduce the heat and sun glare. Well pleased with the result
Terry Strong
Peelable Glass Paint in Griffin Gold