Painting Wood Paint on Timber Summerhouses
A summerhouse is a great investment for the garden and can provide a wonderful space to escape and relax in.
Most summerhouses will be made out of pressure-treated timber to protect against rot, but it's still essential to paint on a protective wood paint to stop the rain from getting in and causing damage to the timbers.
Thorndown Wood Paint is specifically engineered for external use and is a great eco paint for a timber summerhouse. It's water-based with a high-performing acrylic resin that forms a protective water-repellent coating, and is made with VOC (volatile organic compounds) free architectural exterior grade colour pigments that stay strong and true for many years.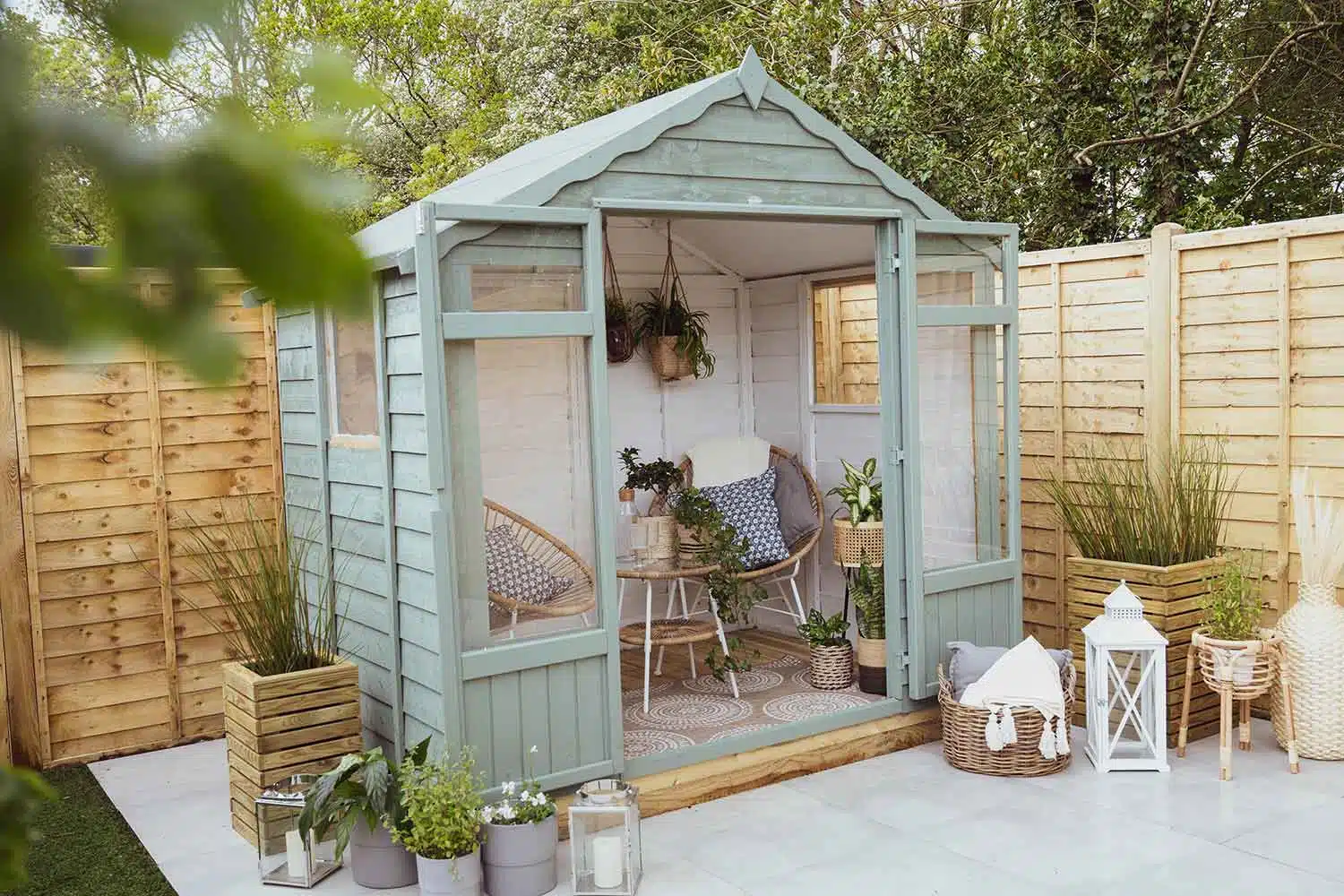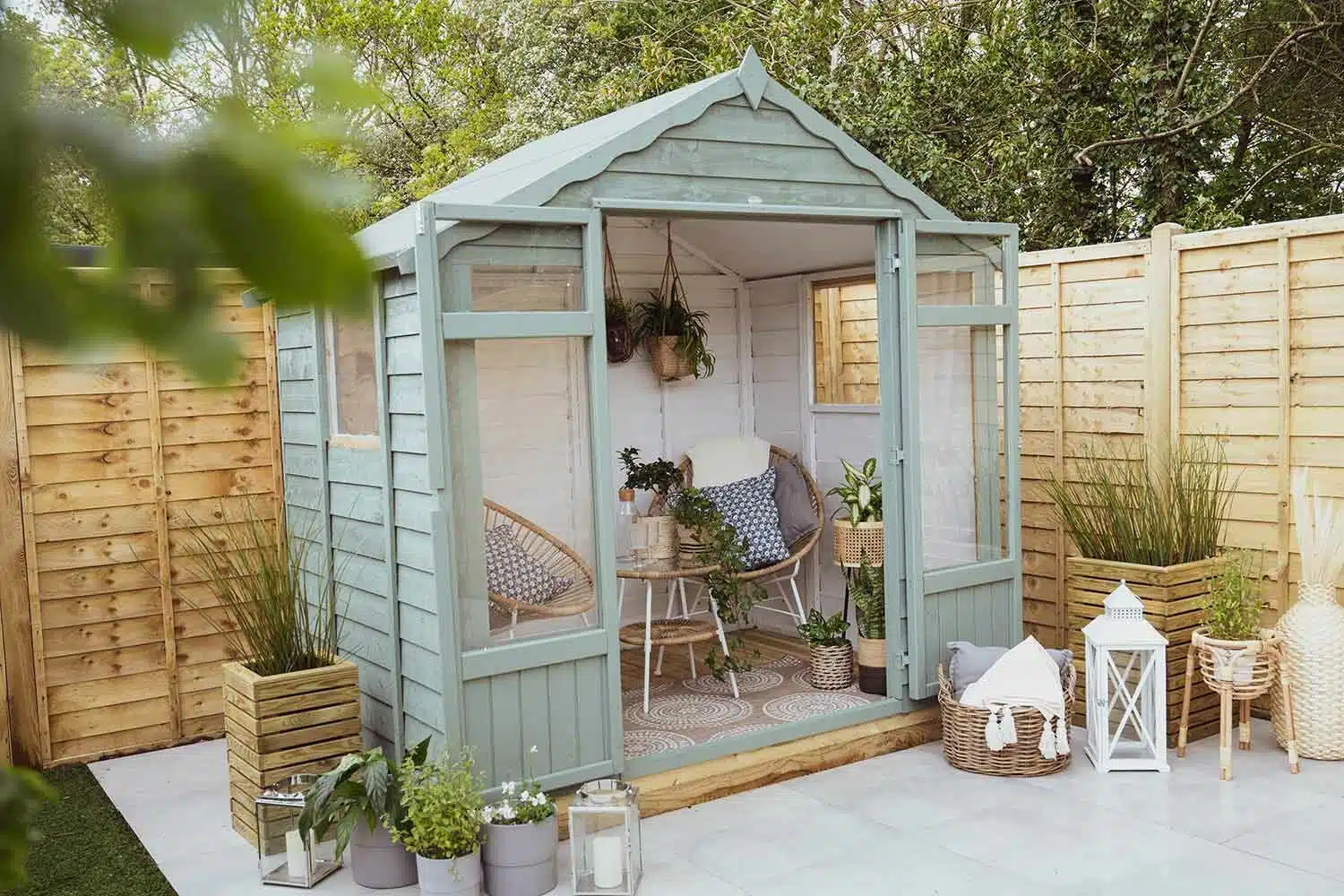 Create a Statement 
There are over 70 colours to chose from in the Thorndown Wood Paint colour charts, or you can select from over 1800 RAL Classic and Design colours!
Forest Garden Products painted their range of Oakley Summerhouses in different colours creating totally different moods, from country cottage in Bullrush Green, to a gentle and soft hideaway painted in Zinc Grey, and a dramatically stylish 8x6m summerhouse painted in Cavepool Grey.
Country Cottage
A beautiful country cottage style was created by painting the outside of the 7x5m summerhouse in Bullrush Green Wood Paint with RAL 9003 Signal White on the interior.
Painting the interior in a lighter colour creates the illusion of greater space, and makes it light bright and airy. It can also have practical benefits by making it easier to clean and further protecting the timber. 
Forest just painted the one coat on giving it a bit of a wood stain effect as the first coat always gets sucked into new timber. You only need to paint one coat on the interior and it will last for years as the sun will take a long time to fade it, and you don't have the external elements wearing it away.
For full exterior protection though you need two coats to properly seal the timber and protect it from the weather. If the building or one side of it is very exposed, then painting on a third coat will protect it for longer as it will take the elements longer to wear it down. Horizontal surfaces such as window sills and ledges wear a lot quicker as they have rain lashing down on them, so three to four coats will give a thicker stronger protective coating that you won't have to maintain as much.
Thorndown wood paint is a high-build paint so the more coats you put on the more solid and stronger the colour coating will be.
If you like the look of just one coat then you can paint on a couple of top coats of UV Clear. This clear wood paint will provide the full protective coating whilst preserving the lighter paint colour look.
Silvery Chic
On the slightly larger 7x7m summerhouse, the Forest team painted Zinc Grey on the outside with RAL 9003 Signal White on the interior.
Styled with comfy furniture, soft furnishings and plants with lush green foliage, a relaxing and calming space has been created.
Cool and Classy
The larger 8x6m summerhouse has been painted with Thorndown Cavepool Grey on the outside and Bishop Blue wood paint on the interior, for a cool and classy look.
Bishop Blue is a modern take on the traditional Navy Blue and when paired with Cavepool Grey, it draws out some of the blue undertones and contrasts beautifully.
A wonderful space has been created as an extension to the home, or a private hide-away to escape from the family home!
Protecting timber buildings is a simple job with Thorndown Wood Paint. 
Just pick a colour (or two), find a window of dry weather, make sure your timber is clean and dry, then paint on two coats with a sprayer, brush or roller, making sure you get into all the gaps and nooks and crannies.
Leave to dry, fix yourself a nice drink, then sit back and relax!
Sign up to our Mailing List for all of our latest updates, tips, tricks and advice for your next project.