Painting Terracotta Pots with Wood Paint
Have Pots of Fun with Wood Paint
A cheap and easy transformation to make in the garden is painting your terracotta pots. Our Wood Paint is specifically designed to look great and work beautifully on wood but it can also be painted on uPVC, metal, masonry, and terracotta pots. You can even paint plastic pots with Thorndown Wood Paint!
Painting a terracotta pot in wood paint will also protect it from the weather. Cheap terracotta pots are especially vulnerable to frost and ice cracking them, and general erosion caused by rain.
If you want straight lines on a terracotta pot, measure up first and mark your points off around the pot. Then put tape around the pot at the levels measured and marked off making small and regular adjustments to the curvature of the tape to produce a straight line. Seal the tape firmly then get painting.
Applying a small amount of wood paint can create really pretty pops of colour throughout your garden and be painted in colours that compliment planting and your exterior design.
Painting Wood Paint on Metal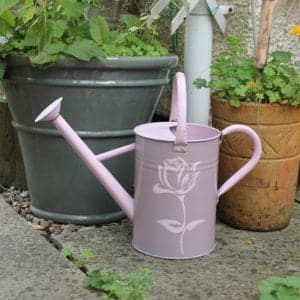 You can paint up the whole pot or sections with lines or stencilling although this won't give you as much protection. If you want full protection but want to get creative, you can paint the whole pot, leave to dry and then paint a pretty stencil on top like I did with an old metal watering can.
The watering can was old and rusty so I cleaned it down and painted the main part in Rock Rose wood paint then left to dry before stencilling.
It's not easy to paint a stencil on a cylindrical object so I taped the rose stencil on, then drew the outline with a red sharpie marker pen. I removed the stencil then filled in the rose outline with 2 coats of Cheddar Pink wood paint which covered over the pen outline and created a very chic watering can!
I liked it so much I had to paint a seahorse on the kid's watering can too.
A 150ml sample tin of wood paint costs just £5.00 and you can fit 4 tins into a small parcel box, making the most out of the delivery charge.
Sign up to our Mailing List for all of our latest updates, tips, tricks and advice for your next project.