Keep Your Wood Looking Good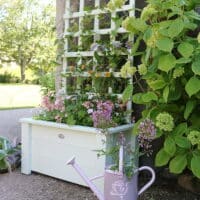 All timber products need protecting from the elements, whether the wood has been pressure treated or not.
In this feature we carry out a makeover on a Hutton Small Trellis Planter and show you how best to paint and protect it. A good Wood Paint is also a great way of creating attractive and colourful features in your garden. The paint colour can compliment and enhance planting and provide much-needed colour on dark dull days.