Winter Giveaway Competition – * WINNER *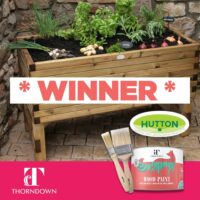 After such a stormy and tumultuous weekend it's great to have some good news to announce.
We would like to say a massive congratulations to brummiemummie who was selected at random as the winner of the Winter Giveaway bundle!!
Thank you to everyone who took part and made the competition so much fun. It was great to see what everyone's favourite colours were from our Wood Paint colour chart. Sedge Green and UV Clear were the top selections with people also going for bright splashes of colour with Purple Divine and Purple Rain popping up as frequent choices.
We hope you enjoyed taking part in the competition and that it's inspired you to get ready for the growing season. It's definitely got me inspired to start sowing early vegetable seeds in the greenhouse and to start prepping the veg bed with lots of lovely homemade compost.
If you fell in love with the Raised Vegetable Planter then you can buy it from garden centres and timber merchants across the country. Call Hutton on 01452 760994 to find out where your nearest stockist is.
As a massive thank you to everyone who took part we would like to offer you a discount code of 20% off all paint products in our online shop. Just enter WINTERCOMP20 in the 'Apply Coupon' box in the basket area. The voucher is valid until 30th April 2020 so there's plenty of time to plan that project.
There will be more competitions throughout the year so look out for announcements in the newsletter and on our social media channels. Happy gardening!