Classic Blue – Pantone Colour of the Year 2020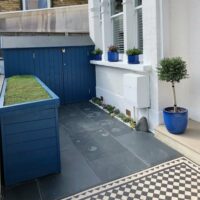 Pantone's Colour of the Year 2020 is 'Classic Blue', an appealing timeless shade of blue. I've always been drawn to blue and it has remained my favourite colour throughout my life. In modern times it is consistently recorded as the favourite colour for the majority of the population.
Such a versatile and soothing colour that can be elegantly sophisticated or have everyday appeal. Blue is the colour of everlasting life – water of the oceans and the colour of the sky.
Blue is often associated with divinity, spirituality and contemplation. No wonder it is such a calming and popular colour in fashion and design.
In season 1 of Wayne Perrey's 'TV Carpenter' Podcast series, colour psychologist Anna Jacobs explains how colour can affect the mood and how to use it in design. She describes the effects of colours on people including how and why blues can be calming.
Our Bilberry Blue is a modern take on the traditional Royal Blue, and a good take on Pantone's Classic Blue. It has been used often to help create stylish features and sophisticated structures. Below is a collection of some of the Bilberry Blue collection.