Protecting & painting timber Planters
wood paint for Timber planters
There are many beautiful and affordable timber planters that make a great addition to a garden. Thorndown Wood Paint is perfect for timber planters as it is a hard-wearing water-based eco paint designed for exterior use, and available in thousands of colours.
Love Your Weekend Planter
TV Carpenter Wayne Perrey joined Alan Titchmarsh on ITV's Love Your Weekend to design and build a raised planter with seating.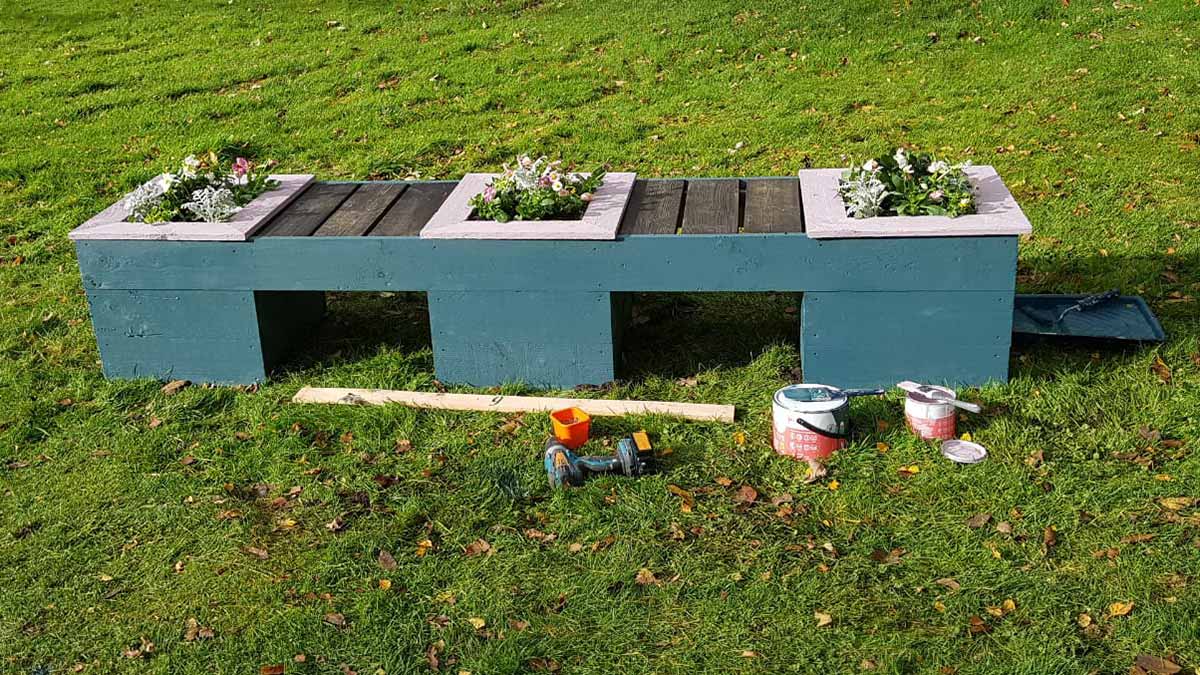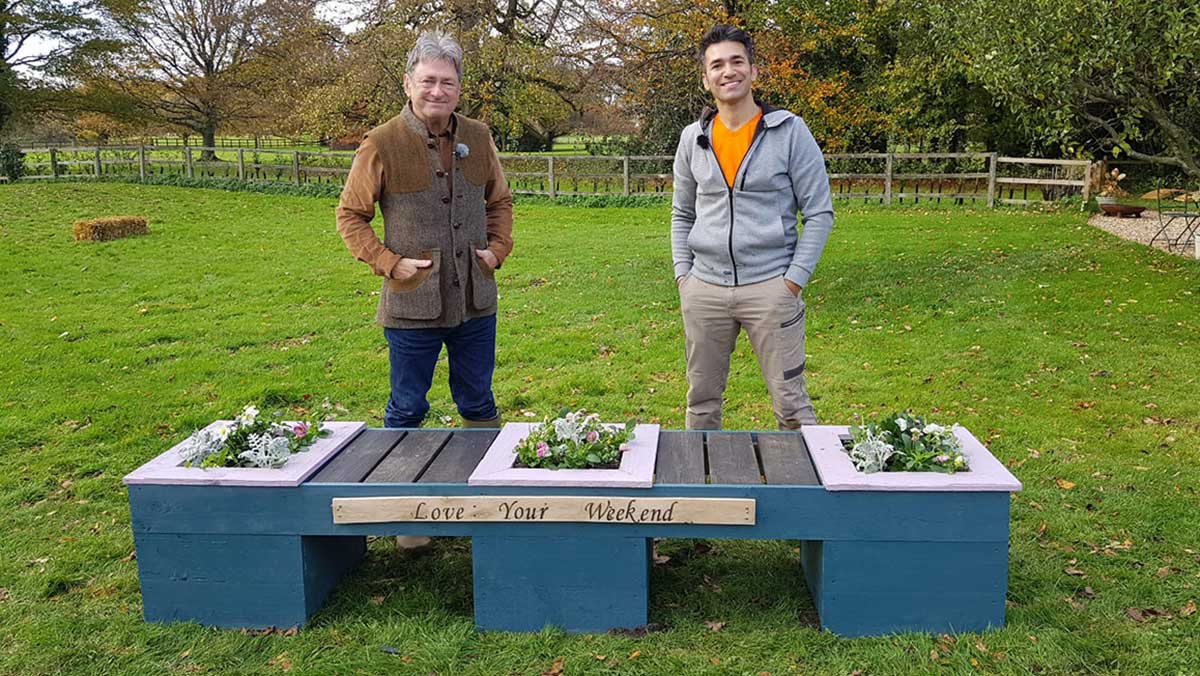 Wayne made it with wood from pallets, gravel boards and old bits and pieces that he repurposed for detailing such as the framing around the planter sections.
He showed a really simple version which was basically four pieces of wood screwed together to create a square planter. This can be dropped on top of a lawn or existing bed and filled with compost.
If you're getting wood from a DIY store or timber merchants he suggests asking the store to cut them down into the correct lengths as most stores are happy to do so.
He recommends using old wood such as scaffolding planks, pallet wood, gravel boards or decking boards as these are all treated in preservative chemicals to protect against rot.
Pallet wood and old bits of timber still need protecting against the elements with a good water-repellent exterior wood paint or stain to stop them from warping, staining and rotting. Wayne went for a sophisticated combination of Avalon Blue and Rock Rose Wood Paint to look striking in the garden and compliment planting.
If you didn't see it you can watch on ITV player to see how Wayne made it and have a go yourself!
Extend Your Growing Space with Planters
Using planters is a great way to create a garden in limited spaces including courtyards and balconies, or to extend growing space in a garden.
I love using timber planters as the variety of designs available can suit every space and style. To protect them I always paint them with a couple of coats of Wood Paint which also gives you the opportunity to create splashes of colour and incorporate them into your garden design as attractive features.
My vegetable plot is a small space and quickly gets filled up so I used planters to extend it.
Hutton Small Rectangular Planter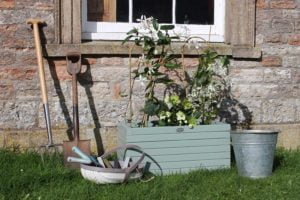 As with all of Hutton's planters, this planter is made out of pressure treated timber that will stop the rot for up to 15 years. It's well crafted and built to last but does need wood paint to make it water-repellent for full exterior protection.
To celebrate the NEW Somerset Heritage Colour Collection I painted this planter in Old Sage Green, a beautifully soft, aged, silvery green with an elegant heritage feel to it. Just paint two coats of wood paint on the exterior and paint the interior down to just below where you'll be filling it with compost. I used old plastic compost bags to line the planter and cut drainage holes in them.
Fill with crock and peat free compost with horticultural grit to aid drainage. Then the fun part begins! I created a winter display with an Icebreaker Hellebore for front and central spreading attraction.
For height and a cascadingly beautiful floral show I planted two Clematis armandii Snowdrift from my favourite plantsman and grower, Floyds Climbers and Clematis. They're based in Wiltshire but also do home delivery so you can buy amazing climbers all year round. You could also underplant with spring bulbs and pop in as many as you can fit for summer and autumn colour.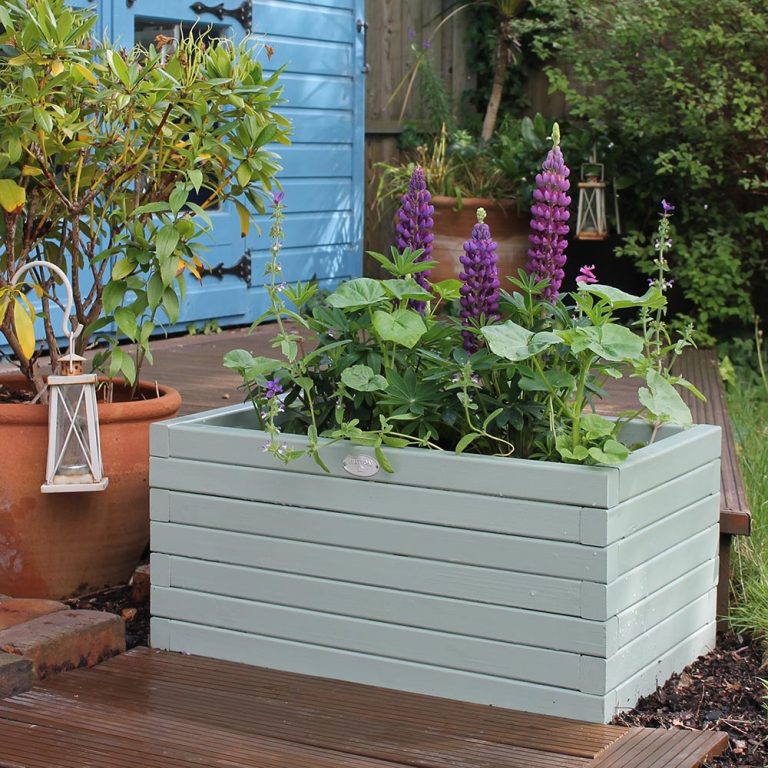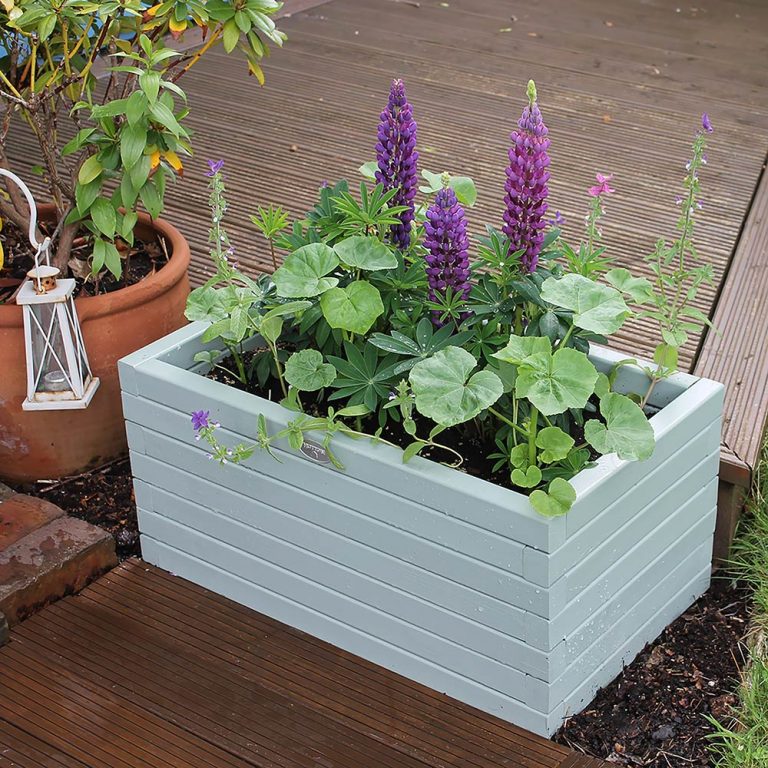 You only need a 750ml tin of wood paint for a project like this and it's really quick and easy to do. Select a colour to suit your garden design and coordinate with planting. It will make you smile every time you look at it and add colour even when the flowers have gone.
Log Plant Surrounds
A great way of keeping continual colour in the garden is to have a series of plastic pots planted up for each season. In their downtime they can be screened off in a part of the garden you don't see, or kept in a greenhouse until it's their time to shine and they can be popped into the garden.
However plastic pots are pretty ugly so these plant surrounds made out of leftover log edging can be the perfect solution. Painting them with wood paint will not only greatly extend their life but add a more lovely colour to the garden.
This is another cheap and easy project as you'll only need 2 x 150ml tins and it takes minutes to paint on each coat. Once dry pop them out in the garden and enjoy!
Hutton Small Trellis Planter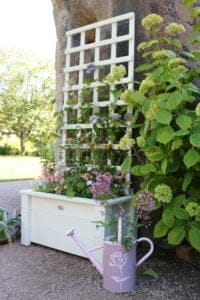 These timber planters are beautifully made out of high quality timber that is pressure-treated to prevent rot & fungi for up to 15 years. However the pressure-treatment process doesn't protect against weather and UV fade so you need to apply a quality wood paint or stain on your timber product to fully protect it and keep it looking lovely.
Thorndown's Wood Paint is a high-performing product that produces a durable and highly water-repellent coating that will prevent water ingress. Water is the main cause of rot and damage in timber products so if you stop water getting into it, then you'll keep it looking great for longer. The coating is also micro-porous which means it allows the coating to 'breathe', letting water particles trapped inside the timber to pass through the coating as vapour. If the coating isn't micro-porous bubbles can appear in the coating as any trapped water tries to get out.
The Small Trellis Planter is really easy to put together with just a couple of screws to fix the trellis to the planter base. However, it's a lot easier to paint the wood before constructing. That way you can layout the parts and make sure you get your brush into every part of it for a proper seal against the weather.
Preparation
Prep is really simple and minimal. Pressure treated timber products will normally have a bit of residue on them so before painting, remove any sections by sanding lightly. As a best practice, we would always recommend using a face mask when sanding to prevent any particles from getting into your lungs.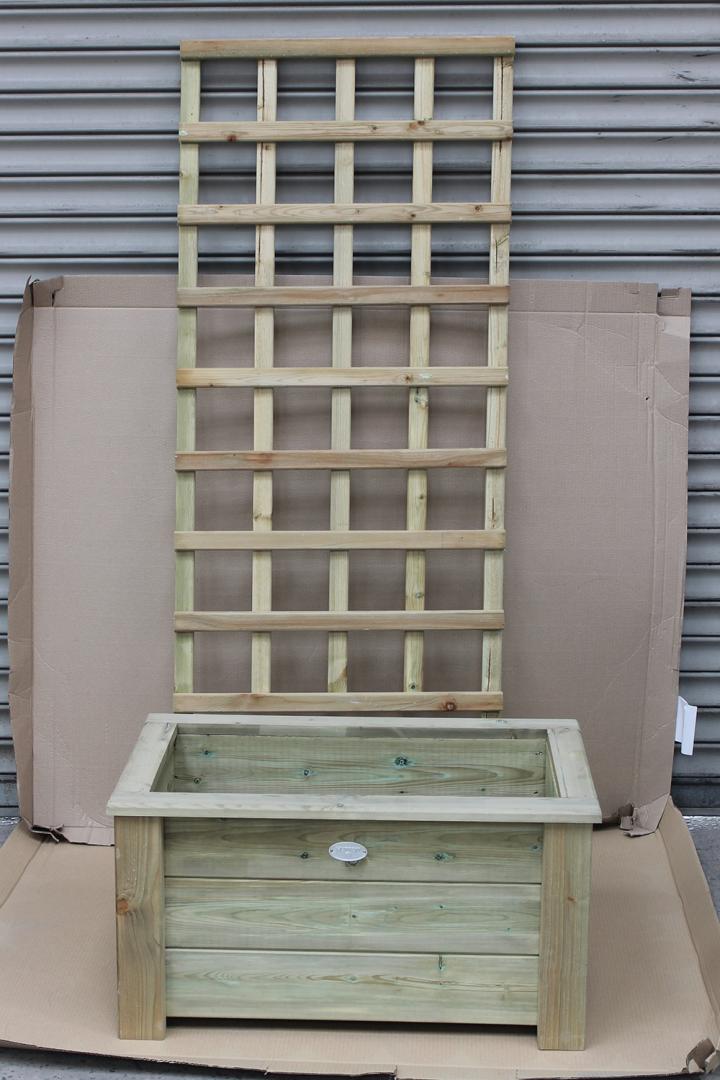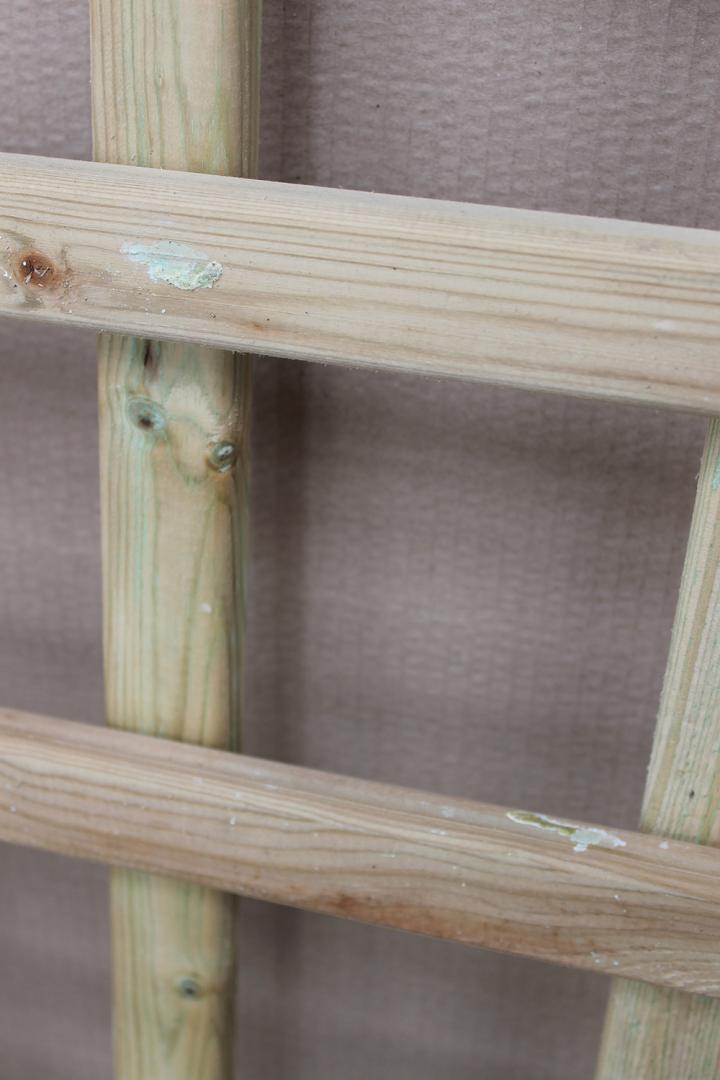 Once your surface is clean and dry you're ready to paint. Fresh timber will normally have knots that can bleed resin over time. It can also produce tannin that will stain paint coatings so if you want to prevent this from happening then you can paint on a stain-blocking primer first. This video explains a bit more.
Painting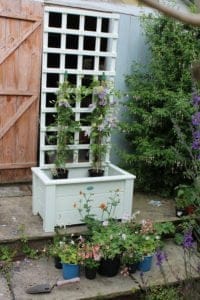 For full exterior protection we would always recommend two coats of Wood Paint. For really light shades such as Swan White or Chantry Cream you may want three coats for a nice solid colour coating.
Paint with the grain and use a good quality brush as that helps prevent visible brush strokes. Applying in nice even strokes with each section painted against still wet paint will give lovely results. Make sure you get into every nook and cranny and seal nail or screw heads with paint.
In fine weather Thorndown Wood Paint will dry in about 30 minutes so by the time you've finished one coat, you can start again with the second. Make sure there's no rain forecast for 24 hours to allow the paint plenty of time to bond and fix onto the timber.
I used Green Hairstreak Wood Paint with these planters for a bright, fresh feel that would compliment the planting.
Here's a video to share some tips and advice on painting a planter.
Planting
I don't normally bother painting the whole of the interior of a planter but will paint below the visible line. To protect the bottom timbers from the effects of direct soil contact I normally line the planter using old thick plastic – old compost bags are perfect. Pierce holes in them so the water doesn't get trapped and add big bits of crock to the bottom to aid drainage.
Planting up is the fun part. Select nice tall plants or climbers for the back and fill in with nice showy plants.
For these planters I chose Clematis Taiga from a great climber and clematis specialist, Floyds Climbers and Clematis. His plants are really healthy and strong so you're guaranteed durable plants that will give you a good display. Clematis Taiga is a beautiful new plant that has large purple flowers opening from a zesty light lime that perfectly compliments the Green Hairstreak.
Totally Tangerine Geums in the mid section provide more height and a great contrast against the purple and greens. Geraniums add softness to the front and will cascade over as they become established.
Create a Scene
The end result is one of utter beauty with the planting and colour of the wood paint working wonderfully together to create a soft but modern take on the country cottage look. And when the weather is poor the wood still looks really pretty and will be perfectly protected for many, many years.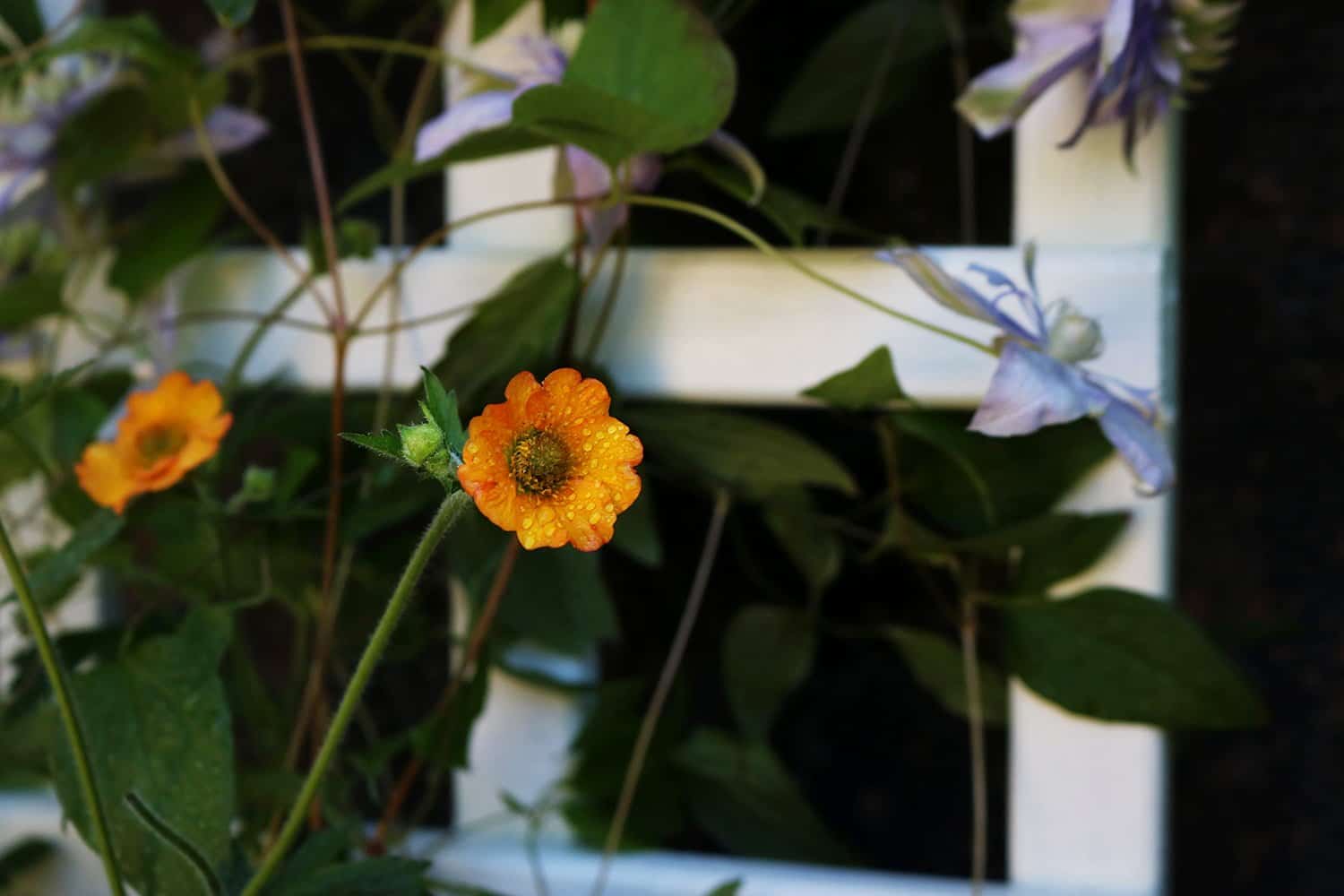 These pictures were shot at The Bishop's Palace in Wells by photographer Holly Wlaznik and with the aid of the ever-so talented stylist Holly Phillips. Grand entrances were made even grander with colour combinations that will always delight.
Sign up to our Mailing List for all of our latest updates, tips, tricks and advice for your next project.