Baubles of Christmas Past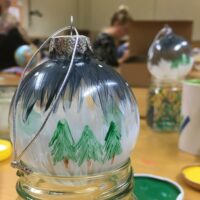 This year we have run some thoroughly inspiring and fun workshops from Peelable Glass Paint Workshops to a children's Christmas Tree Decoration Painting Workshop at the Frost Fayre in Glastonbury.
It was put on as part of a series of Christmas themed sessions that local charity Children's World put on for the Frost Fayre. We thoroughly loved seeing children (and the odd parent) getting stuck in with our Wood Paint and creating a bauble or star to hang on their tree or in their home. Biodegradable glitter was sprinkled onto wet paint to add that extra bit of sparkle at Christmas time.
We also partnered again with local community initiative Project Factory, to put on a Christmas Glass Bauble Painting Workshop with Peelable Glass Paint. It was another fantastic session with some very inspiring people creating pretty beautiful decorations.
Read more to find out what they created and how.