On Saturday 26 January we put on a FREE workshop as part of Wake Up Wells Community Day at Wells Cathedral.
We supplied Peelable Glass Paint, art materials and boxes of old glass jars, although some brought along their own glass items to paint. One talented lady brought a sheet of glass that was destined for the recycling bin and turned it into a piece of art with our glass paint. With a paint brush and imagination she re-created an impressive countryside scene.
Another lady brought in a lantern and created a beautiful stained glass effect by first painting black lead lines in traditional diamond patterning using a card template. Once she had finished painting on all of the lines the first panel was dry so she could then start filling in the diamonds with a variety of translucent Peelable Glass Paint colours.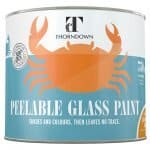 There was a great mix of all ages that came up with some great designs. One thing I love about these workshops is seeing people experiment with different techniques and this session was no exception. One lady perfected a marbling technique that got others hooked on the process. Once you get the hang of it this is a very simple but effective way of creating some great pieces that sit up against fine pieces of glass art. As soon as we can we will create a video to demonstrate the process and share it with you.
Peelable Glass Paint is water-based, has minimal VOC and low odour, and is non-toxic, making it a great paint to work with no matter what the project.
If you need inspiration then head to the Projects page for ideas and tips.