Halloween is a fun celebration in most households and especially when there are children about. The month of October provides the perfect setting for a dark and spooky Halloween night and what better way to transform your house than with Peelable Glass Paint. 
Peelable Glass Paint Halloween scenes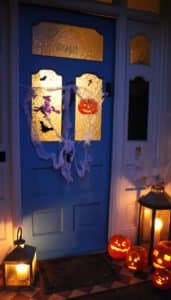 Using stencils the front door was turned into a warm welcome for trick or treaters, with lanterns, pumpkins and fake cobwebs to top off the scene.
You can download some fantastic stencils from the internet or use stencil books from craft and art shops. Many online shops also sell packs of stencils that you can use time and time again.
On the front door we used a witch on a broomstick painting the witch with Purple Phoenix. The pumpkin was painted in Ogre Orange and the bats had to be painted in Bat Black.
In the top glass panel we painted BOO in White Witch – a gentle scare that shone up nicely with the hall light shining through.
With just a little bit of Peelable Glass Paint, some stencils and a few minutes a fun and spooky entrance was created.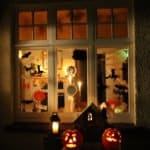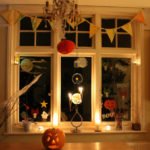 A whole Halloween scene was painted on windows using stencils and doing some freehand pictures of ghosts, a moon and clouds drifting across. Moulded 'stick-on' shapes were also added to the scenes and you can find out how to make these below. The windows look just as great during the day as they do at night, viewed from outside or inside the house.
Pouring Peelable Glass Paint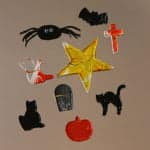 One of the easiest ways to create amazing designs is to pour Peelable Glass Paint onto a plastic plate or glass tray and just leave to dry.
In this picture different Peelable Glass Paint colours from the translucent range were poured into a glass tray. Colours were swirled and mixed to create fantastic effects on the cross, tombstone and pumpkin with the cats and bat being left as more solid blacks. Clear Glass Paint was used on the ghost giving it that transparent spooky look. Cookie cutters were placed on top of the liquid paint on the glass tray and left to dry. Remember, the thicker the paint you pour, the longer it will take to dry!
Different colours were used for the star with Wizard Yellow as the core colour. This was poured onto a plastic picnic plate and set aside to dry.
When the paint had dried a craft knife was used to cut around the edges of the cookie cutters and hey presto – a Halloween set was born.
Again and Again . . .
Once the paint has dried you can stick the shapes onto any shiny surface including emulsion paint walls and peel them off again without leaving a mark or any residue. The Peelable Glass Paint is so durable that you can use these 'stick-on' shapes again and again and they last for years so keep them for decorating next Halloween.
Bring your stencils and paints back out again too and get painting to create your own Halloween scenes. When the party is over just pick at a corner and peel away to remove!