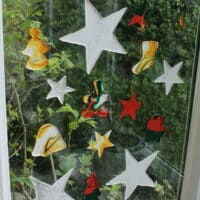 Making Window Clings with Peelable Glass Paint is so easy to do and strangely satisfying!
All you have to do is find a glass or plastic tray or plate, pour Peelable Glass Paint into it, drop cookie cutters into the wet paint, then set aside to dry.
The drying process will take a few days depending on how thickly you've poured it, but once it's done you free the shapes from the cutter moulds, then stick them on windows, mirrors and even painted walls.
These great window clings can be used time and time again. Peel them off and stick them back on!
Find out more by following this link where you'll find advice, inspiration and how to videos.