Wood Sheds and timber garden buildings
Shed Collection
Here we share with you a collection of sheds and garden buildings painted in Thorndown Wood Paint to demonstrate the versatility and breadth of styles that can be created by using different colours.
Thorndown's Wood Paint creates a highly durable water-repellent coating on timber garden buildings that protects them for years. The VOC free exterior grade colour pigments perform at the highest levels in lightfast and weather resistance tests so the colour you paint on is the colour you'll see for years and years!
Nestled into the back corner of the garden belonging to Instagrammer (emmasallotmentdiaries) and YouTuber Emma Bailey, this Forest Garden shed from their Epping Range, creates a space of warmth and bright beauty, painted in Thorndown Mudgley Mustard with trims in Swan White.
The planting also reflects Emma's love of colour and the textural flowers play beautifully with the shed. Her video below shows how she built and painted her shed.
Painting a large timber building doesn't necessarily mean it's going to dominate the landscape. This building was painted in Blackdown wood paint along with the decking, and the window frames were painted in Moorland Green creating an attractive contrast that picks up on the surrounding greens in the planting.
The building actually appears to sink into the garden sitting nicely with the planting, with tubs on the decking and in front of the building helping to soften it and integrate it further.
Goblin Blue wood paint gives this utilitarian style shed a fun and attractive style, that makes you smile, looking like a timber building that you'd find on the very trendy Dungeness beach.
Keeping with fun and a variety of colours, these owners have personalised their timber buildings to suit their spaces and tastes.
The first is a very pretty summer house painted in Rhyne Green with Limestone wood paint on the window and door frames as an attractive contrast. The rather beautiful cat thinks it's a a very attractive spot. The second garden features another shed painted with Goblin Blue, and Ginger Gold is painted on the fences giving it even more warmth with a take on the beach theme.
The third shed is painted in an elegant and chic blue, RAL 260 40 15, with Swan White on window frames, suiting the space wonderfully. In the last picture we're taken to an allotment shed that must be the envy of all. Painted in Bergamot Grey with the flower painted in Meadowsweet Cream and Golden Somer. It must bring a warm smile to all visitors and workers as they tend their plots.
Going posh, these custom designed and built timber buildings by Wood & Space, are painted in heritage and classical combinations of paint colours and pairings. These amazing designs sit beautifully within their gardens, creating a picture of calm and serenity.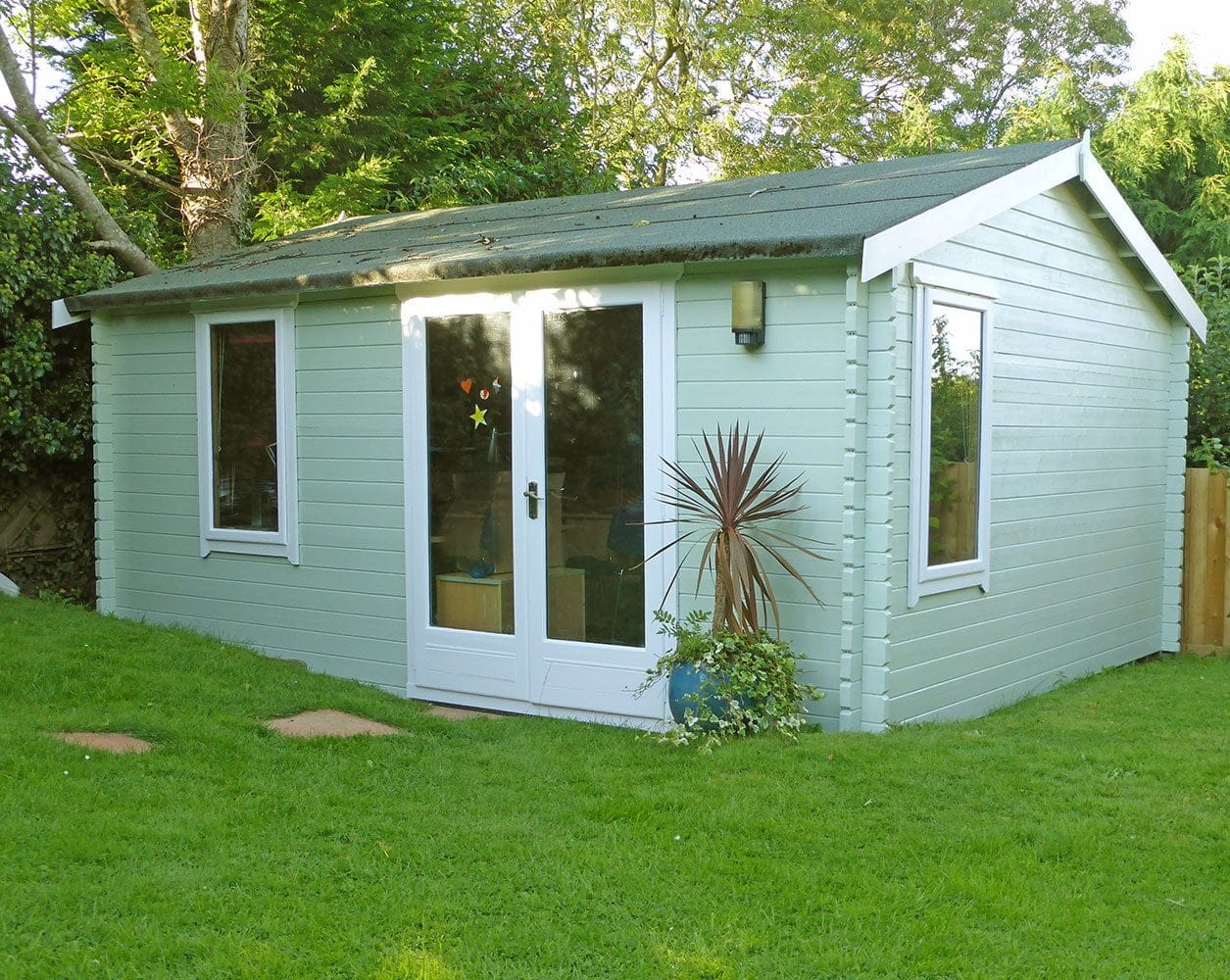 This large timber office sits at the bottom of the garden providing a sanctuary and space for creative thought.
Painted in the popular Wispy Willow Wood Paint with trims in Swan White, the finished look is attractive and compliments the lush green lawn and trees it sits within.
Just two coats of Wispy Willow were needed to create a beautiful finish and strong protective coating.
With lighter colours, whites like Swan White, off-whites and creams I always prefer a third coat as it strengthens the solidity of the colour.
Planting a large tub up helps to further integrate the building into the garden space, making it look more homely and even more appealing.
I could quite happily wander out of my kitchen door to meander along the path over the lawn, to sit in this fabulous building and work away, gazing out over the garden and popping back to the kitchen every now and again for a nice cup of tea.
The above shed is painted in Squirrel Blue with Skylark Blue Wood Paint on the trims and interior details. Sat in a corner of the garden that gets the evening light right up to sunset, it's the perfect spot for a warm and inviting getaway to relax in and soak up the day.
Bishop Blue Wood Paint has been painted onto the exterior walls of this stunning shed designed and built by Wood and Space. The natural timber fascias and details provide a great contrast to the blue and elevate the sophistication of the design. By painting UV Clear Wood Paint onto bare fresh timber, the natural look of the wood can be protected and preserved for years.
The Love Your Garden team painted this shed in Dormouse Grey Wood Paint, a warm, natural, earthy tone that looks richly elegant yet allows the building to take a back seat to the garden and planting. Painting the interior in Bath Cream gives it a warm, inviting, luxurious feel. On interior walls of buildings only one coat of wood paint is needed but a second will increase the solidity of the colour coating.
These bright and beautiful sheds create totally different looks. The first is a school shed brightened up with rainbow colours to uplift all that come across it in the playground. The second is a lovely contemporary country cottage look with the pastel baby blue of Adonis Blue Wood Paint paired with the lovely rich Bath Cream. And finally, Love your Garden painted the third shed in Parlyte Green Wood Paint giving it a bright, pretty, pastel look that worked brilliantly with their garden festival theme. building to take a back seat to the garden and planting. Painting the interior in Bath Cream gives it a warm, inviting, luxurious feel. On interior walls of buildings only one coat of wood paint is needed but a second will increase the solidity of the colour coating. The final pastel pop is a shed painted in Cheddar Pink, looking very pretty and quite smart with the black hinges.
Painting the interior of a garden building can finish the look and transform it from a wooden building to a space that has been designed. Love Your Garden created a pub in the interior of a garden building using cool greys to highlight features and accents like the shelf.
This super sophisticated summerhouse was created by the Love Your Garden team using Greymond and Bishop Blue Wood Paint. The interior was also painted in Greymond lifting the light and creating a great backdrop to soft furnishings and cherished items.
On the left is a shed door painted in the classic RAL 7016 Anthracite Grey Wood Paint. It looks classically sleek and is a very popular colour used extensively in architecture and exterior design. Next is a Forest Small Storage Shed painted in Golden Somer with a Swan White trim. It's a cheery combination that's reminiscent of beach huts and always brings sunshine and a smile to the garden, whether it be summer or autumn. The interior is also painted in Swan White Wood Paint with screws in the door providing great hanging space for small tools.
The final small storage shed was painted by Naomi Slade (garden designer, author and journalist) who created her own shade by mixing together Reed Green with a splash of Peregrine Blue for that perfect seagrass shade. We've dubbed a RAL version of it Slade Green in her honour and have added this jem-like colour to the Somerset Heritage Colour Collection!