Season 6 Colour Drop Giveaway Competition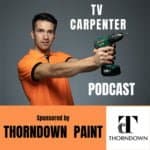 Inspired by a TikTok video where Christian Hull tries to guess the paint colour from a tinting machine, we're running a competition through Season 6 of the TV Carpenter Podcast, giving you a chance to win a 750ml tin of Wood Paint in the colour of your choice.
We had such a lot of fun playing the competition during season 5 that we had to bring it back and spread a little more joy!
Season 6 started on Friday 5th February and Wayne will announce the giveaway competition. It will run weekly throughout Season 6 so you'll have lots of opportunities to enter.
In April we'll be putting a spin on the game to celebrate the forthcoming growing season and advance of the sun. We'll be playing 'Peel to Reveal' with Peelable Glass Paint where you guess the Peelable Glass Paint colour instead. 2 winners will win a 750ml tin of Peelable Glass Paint in the featured colour, if they guess the colour correctly and are picked at random to win a pot.
Play the Game
Listen to the TV Carpenter Podcast which goes live every Friday. Wayne will give away a clue to the colour which will be from the Thorndown Wood Paint Colour Chart, or from the Thorndown Somerset Heritage Colour Collection Wood Paint Colour Chart, or for the last few weeks during 'Peel to Reveal' it will be from the Peelable Glass Paint Colour Chart
Watch the video on Saturday morning which will be uploaded to Wayne's TV Carpenter Instagram account and grid and copied to Thorndown's showing the colour drop and the mixed paint colour, or 'Peel to Reveal' for the last few weeks where you'll be guessing the Pealable Glass Paint colour
Guess what paint colour you think it is and comment on the post by midnight on Tuesday. Remember that the dried paint colour will be a bit darker and slightly different to the liquid colour!
The paint colour will be revealed on Wednesday and the winner will be picked at random. They will be contacted via DM with a voucher to use on the Thorndown online shop in exchange for a free 750ml tin of Wood Paint in the colour of their choice delivered direct to their door. For 'Peel to Reveal' 2 lucky winners will receive a 750ml tin of Peelable Glass Paint in the revealed colour. Please note that free delivery can only be made to UK mainland and some areas such as Northern Ireland, Scottish Highlands and Islands will incur a delivery fee
Have fun playing this very addictive game!
Competition Terms
Competition run by Thorndown Ltd. and Wayne Perrey, the TV Carpenter
The competition runs from Friday 5th February during Season 6
Competition closes at midnight on each Tuesday night throughout the competition period
Winner will be chosen at random and announced on a Wednesday or Thursday
The winner will need to contact Thorndown with their choice of colour and/or delivery details for 'Peel to Reveal'
You must be 18 years old or above and live in the UK
Prizes will be delivered FREE to 1 UK mainland address. Please see list of exclusions and surcharges
This competition is not affiliated with Instagram or Facebook