Thorndown are delighted to sponsor of Wayne Perrey's new podcast series, TV Carpenter.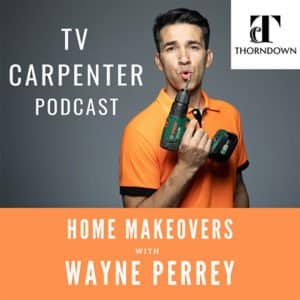 Wayne Perrey has been a specialist carpenter for 10 years, designing, crafting and building bespoke furniture for private clients. In addition to this the multi-talented man has also built furniture and sets for numerous TV shows including "Tattoo Fixers", "Celebrity Big Brother", "The Great Interior Design Challenge", 60 minute makeover with Peter Andre on "This Morning", "The Autistic Gardener" and of course, "Love Your Garden".
This talented man has an infectious personality and a huge passion for DIY and imparting his knowledge to others. With DIY expert and friend Steph Bron, he also has a company called "The DIY Doers" that publish E-books, offer online courses, and share their knowledge via their Facebook page. They also write for The Sunday Times Home Magazine, do DIY tutorials on TV show 'Crafty beggars in the house', talks on the main stage of the Ideal Home Show, and have just finished filming the new BBC daytime show "Getting the Builders In".
In his quest to make us all confident 'DIY Doers' he is starting a podcast series full of simple tips and tricks, interviews with interior designers, garden designers, directors, producers and other special guests.
There aren't many people as experienced and well-placed to offer their teachings as Wayne. This will be the first UK based DIY podcast series and having listened to his first episode, I'm hooked already.
The TV Carpenter Podcast series starts on Friday 16th August, 2 days after the launch of the new BBC/Netflix show "Interior Design Masters", presented by Fearne Cotton.
Wayne has already interviewed many fascinating people and has some legends lined up including Alan Titchmarsh.
We are really happy to be sponsoring Wayne's podcast series and will be tuning in and breaking out our tool boxes. Listen to Wayne's podcast via Buzzsprout and on Apple Podcasts or Spotify.