Thorndown are delighted to sponsor Wayne Perrey's critically acclaimed podcast series, TV Carpenter.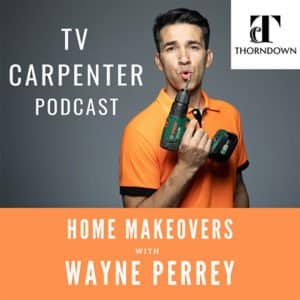 The TV Carpenter podcast series featured in the Sunday Times Homes supplement in the Top 5 Interiors Podcasts. We are all really proud of the recognition that Wayne has received for producing such a brilliant and engaging podcast series.
Season 6 began on Friday 5th February 2021 to coincide with the beginning of the new series of 'Interior Design Masters' on BBC 2 at 8pm from Tuesday 2nd February. Wayne will be interviewing guests, discussing the show and giving behind the scenes anecdotes on a series that was pretty amazing.
He will be interviewing interior designer and TV presenter Abigail Ahern, who is a guest judge on the fabulous new series of 'Interior Design Masters', that saw some brilliant budding designers competing for the grand contract and amazing us with some extraordinary designs. Celebrity florist Simon Lycett whose displays have adorned Royal weddings, joined Wayne for a fascinating chat. Architect and TV presenter Laura Jane Clark and top stylist Lucy Gough, Interior Designer and Home Stager Julia Alexander, TV Presenter, Interior Designer and DIY expert Ben Hillman, and Josie Moore, a Furniture artist and creator of WoodUbend have already chatted with Wayne in another set of great interviews.
Wayne will also be announcing winners of the Paint Drop Giveaway competition and giving away clues to help you guess the colour.
Season 5 began on Friday 16th October with the legendary Alan Titchmarsh MBE, gardener, garden designer, TV presenter, author, journalist, and generally amazing man loved by the nation and beyond!
Wayne interviewed an amazing selection of guests taking us up to Christmas, including Linda Boronkay, designer of Soho house world wide, and Karen Haller, writer and award winning colour psychologist, author, blogger, interior stylist and set designer Emily Henson, artist Carol from the fab design company Max Made Me Do It, wallpaper designer Hazel Carruthers from Avalana Designs, luxury African textiles designer Eva Sonaike and Estelle Bilson from 70s House Manchester whose Instagram images take all us 70's kids straight back to our childhoods.
Wayne chatted to some incredible talent in Season 4. Jordan and Russell from 2LG Studio kicked-off season 4 on Friday 3rd July with another entertaining and fascinating interview with these two incredibly talented and renowned designers.
The dulcet tones of interior designer Daniel Hopwood, make for a very easy to listen to interview with delightful stories about his career and success. From across the pond Ethan Waldman chats to Wayne about Tiny House living in a really interesting interview about the successes and challenges in condensed living, with some quite mind-blowing designs and cheats to optimise use of space.
Architect Kate Clare from Loud Architects talks architecture, design and planning with tips on how to deal with planning departments, and how she approaches interior design.
Also in Season 4 Head judge of Interior Design Masters and former editor-in-chief of ELLE Decoration, Michelle Ogundehin joins Wayne for a delightful interview; Rukmini Patel, Interior Designer and co creator of the 'Design for Diversity Pledge' chats about her blog, interior design business, and how she is helping to combat the lack of diversity in the industry; and Katie Rushworth from ITV's 'Love Your Garden' talks about her horticultural and presenting career. Wayne also chats to Shelina Jokhiya from De-cluttrme, award-winning Interior Designer and Blogger Christian Bense, Ross and Chris from The Curious Department, and TV's lady builder Sian Astley.
The grande finale of Season 4 was an hour long interview with the incredible potter, product designer and interior designer Jonathan Adler. An hour speeds past in a thoroughly warming, entertaining and insightful interview into this industry legend.
Season 3 began on Friday 20th March 2020 with Lucy Tiffney, Maximalist artist and designer from BBC 'Great Interior Design Challenge'.
Wayne was set to interview a selection of stylists, designers and the legendary Alan Titchmarsh on stage at the Ideal Home Show for season 3. This show was postponed but Wayne continued season 3 with many fascinating guests to entertain and inspire us, including Property Restorer (Man with a Hammer) Greg Penn, Interior Designer and founder of charity initiative Design Havens for Heroes, Francesca Rowan Plowden, Interior Designer Sophie Robinson, Designer & TV Presenter Max McMurdo, Kate Watson-Smth from Mad About the House,  TV Garden Producer Thea Pitcher, Chris Billinghurst, the director and creator of 'House Of Upcycling'.
Season 2 has a collection of fascinating people being interviewed by Wayne, imparting style and design advice. Some are hilarious like Zoe Pocock from MuckNBrass and others are engaging and intimate as horticulturalist and garden designer Alan Gardener speaks to Wayne about his battle with health and life after.
Wayne Perrey has been a specialist carpenter for 10 years, designing, crafting and building bespoke furniture for private clients. In addition to this the multi-talented man has also built furniture and sets for numerous TV shows including "Tattoo Fixers", "Celebrity Big Brother", "The Great Interior Design Challenge", 60 minute makeover with Peter Andre on "This Morning", "The Autistic Gardener" and of course, "Love Your Garden".
This talented man has an infectious personality and a huge passion for DIY and imparting his knowledge to others. With DIY expert and friend Steph Bron, he also has a company called "The DIY Doers" that publish E-books, offer online courses, and share their knowledge via their Facebook page. They also write for The Sunday Times Home Magazine, do DIY tutorials on TV show 'Crafty beggars in the house', talks on the main stage of the Ideal Home Show, and have just finished filming the new BBC daytime show "Getting the Builders In".
In his quest to make us all confident 'DIY Doers' he is starting a podcast series full of simple tips and tricks, interviews with interior designers, garden designers, directors, producers and other special guests.
There aren't many people as experienced and well-placed to offer their teachings as Wayne. This will be the first UK based DIY podcast series and since its launch on Friday 16th August 2019, has gained an ever-expanding loyal audience.
Wayne has already interviewed many fascinating people and has more legends lined up including Alan Titchmarsh.
We are really happy to be sponsoring Wayne's podcast series and will be tuning in and breaking out our tool boxes and design pad. Listen to Wayne's podcast via Buzzsprout and on Apple Podcasts or Spotify.
FREE TICKETS GIVEAWAY COMPETITION!! Please note that this competition will re-launch once new show dates are confirmed
The Ideal Home Show and TV Carpenter Wayne, have given us 2 sets of 2 tickets to give away so read on for details of how you can get your hands on a pair of FREE tickets!!
HOW TO ENTER:
1. Follow the Ideal Home Show on their social media channels. You can find them on Facebook, Instagram and Twitter
2. Like our competition post and let us know in the comments what your favourite interview is from the TV Carpenter Podcast. There are so many great ones to choose from you'll be spoilt for choice!
3. If you don't already follow us then please join in and you can subscribe to the TV Carpenter Podcast so you don't miss any cracking episodes
4. Make sure you're free to visit when the new show dates are announced
DATES: the competition will re-open in the month leading up to new dates for the show
PRIZES: there are 2 pairs of tickets to win!
WINNERS: will be selected at random and contacted by DM to arrange postal delivery of tickets
DETAILS: UK residents only. This Giveaway is in no way endorsed or sponsored by Facebook, Instagram or Twitter. Entrants must be 18+ years old. No voucher or cash alternative.