iF DESIGN AWARD 2019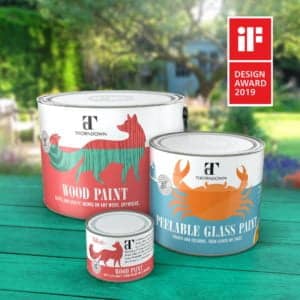 So proud that we have picked up another amazing award for the design and branding of Thorndown. We were so lucky to work with a world-class team at Brown&co that got us, and understood what we wanted to achieve.
They took our dream and created a thing of beauty that fully conveys all that we and our product stands for. It's amazing to have Thorndown and the design work recognised internationally and delighted that so many people think it's as great as we do!
The iF DESIGN AWARD is one of the most important design prizes in the world. For 65 years, designers and manufacturers have strived to win the internationally renowned iF label for design.
Winning an iF DESIGN AWARD is a seal of quality for exceptional design and outstanding services. For consumers and users, it is a symbol they can trust. An international jury panel of 67 design experts select winners over an intensive three-day jury session in Hamburg.
The latest trends, innovation and uniqueness are reflected in the awarded submissions in the following disciplines: Product, Packaging, Communication, Interior Architecture, Professional Concept, Service Design / UX and Architecture.
Silver Pentaward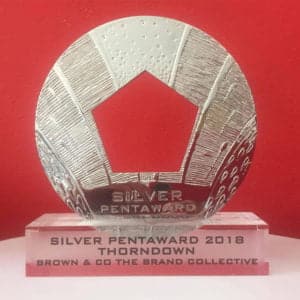 The international jury of Pentawards, the first and most prestigious worldwide competition devoted exclusively to packaging design, has announced the 2018 winners. This year, the 12th edition of the Pentawards was held at the iconic Solomon R. Guggenheim Museum in New York. On Thursday 6th September 2018, the gala ceremony played host to over 280 of the most creative, innovative and disruptive members of the global packaging design community, all winners of the 2018 competition.
We knew we had a pretty special brand but to get a Silver Pentaward is amazing! Sadly we couldn't be in New York to pick up the award but totally stoked to have such recognition for the Thorndown brand.
The journey from concept to creation was a brilliant partnership with design agency Brown&co. We worked with some leading global talent who interpreted our dream and turned it into a striking brand that perfectly describes what we stand for.
We love what Brown&co have created and are delighted that industry leaders and customers alike love it too!