DIY Doers Do It With Thorndown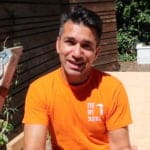 Ben from Thorndown met the marvellous Wayne Perrey on the first episode of the 2018 series of Love Your Garden. Wayne is a carpenter who specialises in making TV sets on makeover shows, in magazines and exhibitions.
This rather talented man also runs a company called The DIY Doers with business partner, Steph Bron. They share their knowledge and experience of DIY projects, helping to inspire and explain just how to do it yourself.
Wayne loved using Thorndown Wood Paints on Love Your Garden and wanted to use them on his own projects. The first was a makeover in his own garden where he transformed his shed, deck, raised beds, garden furniture, terracotta pots and a metal sculpture.
You can see how he got on by following this link to The DIY Doers YouTube channel. He's got some great tips, techniques and general advice to share throughout the video. Hope you enjoy!