Stunning Timber Arbours with Thorndown Wood Paint
Create a Stunning Arbour with Thorndown Wood Paint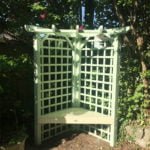 Painting a timber arbour with our wood paint not only protects the timber from the damaging effects of UV and weather but instantly creates a stunning centrepiece to be admired.
This beautifully designed Triangular Corner Arbour from Hutton Garden Products is a newly created piece for their 2018/2019 range. Made with great quality pressure-treated timber, the finish and joinery are of a really high-quality so you know it's not going to fall apart after a few years. I think the quality speaks for itself and the design is perfect for those corners that can become a wasted space.
I have just such a corner in a patio area that is surrounded by hazel trees, a large viburnum and beautiful old climbing rose. I had always wanted to create a relaxing area for rest and contemplation but couldn't quite find the right thing for the spot – until Hutton designed the Triangular Corner Arbour.
Minimal prep was required but there is always a check list you need to run through before painting.
sand off any rough patches that will show or affect the finish
remove any surface residue from the pressure-treatment process
apply a knotting agent or stain-blocking primer to prevent possible staining of the paint coating – or don't worry about it and let nature take it's course
make sure the surface is clean. Wash off any dirt with soapy water or use a pressure-washer to blast off persistent dirt or algae. Washing with a light bleach/water solution will help to kill off algae
make sure timber is dry otherwise coatings won't fix properly to the timber affecting performance and longevity
check the weather to make sure rain isn't forecast for at least 24 hours to allow plenty of time for the paint to dry and fix/bond properly
get some Thorndown Wood Paint, a brush (roller or sprayer) and something nice and cold to reward yourself with after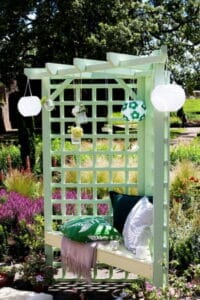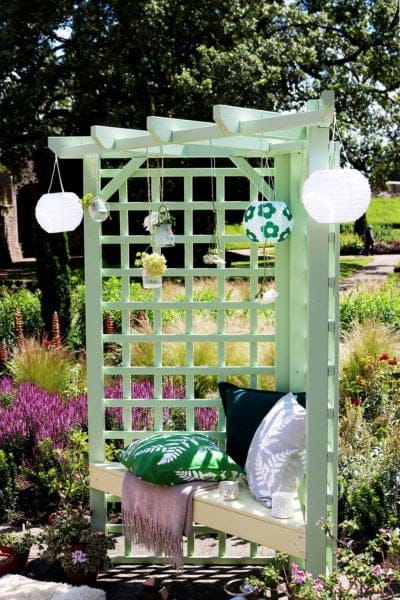 I wanted to create a bright, fresh feel for what can be a dark corner. Parlyte Green is definitely a bright fresh green with a soft pastel edge that works wonderfully paired with the rich creamy Bath Cream. A colour combination that harks back to the Victorian era and still works brilliantly today.
We took this arbour and one of their top-selling Herefordshire Arbours to The Bishop's Palace in Wells for a photo shoot. You couldn't dream of a more stunning location with exquisite gardens and the amazing medieval architecture of the palace in the background.
On a hot sunny day filled with a blue sky and white fluffy clouds the two Holly's got busy and created these stunning shots. All of the props came from my home and stylist Holly Phillips and photographer Holly Wlaznik, showed how you can make a wonderfully relaxing or romantic scene using everyday items.
Different moods are created with a change of styling from a bright, vibrant, busy party scene, to a more relaxing scene of natural and muted colours that make you just want to sit down and switch off.
The large Herfordshire Arbour creates a perfect statement piece for the whole family to enjoy. We painted it in the pretty Peregrine Blue Wood Paint which has a lovely lilac undertone to it. Contrasted with Bath Cream Wood Paint on the fascias and decorative trellis work the large blocks of colour were broken up and a cottage garden look created.
Again only two coats are needed to provide stunning colour and a long-lasting protective coating that will last up to 10 years.
See what you can create with a bit of colour!
Sign up to our Mailing List for all of our latest updates, tips, tricks and advice for your next project.