Simple Makes with Recycled Jam Jars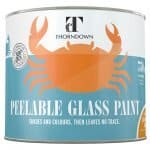 Recycling jam jars into something beautiful is simple with Thorndown's Peelable Glass Paint. Rather than throwing away or recycling jam jars, why not create something new that you can use around the house?
Easy crafty ideas can re-purpose a jam jar into a vase, plant pot, tea light holder, or tooth brush jar! Paint on Peelable Glass Paint with stencils , freehand, using masking tape to create stripes and lines, or let yourself go with a splatter design. I used an old cardboard box to catch splashes and flicked different Glass Paint colours with a variety of brushes onto a selection of glass jars, rotating the jars for even all round cover.
Glass Paint Splatter Jam Jars
Jam Jar makes with Peelable Glass Paint