Decorating Mirrors with Peelable Glass Paint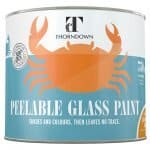 Brighten up mirrors easily by painting on glass paint designs freehand or using stencils with Thorndown's Peelable Glass Paint. Transform rooms for the season, add a personal message or detailing to match your interior design.
With so many colours to choose from there's nothing you can't do and when you want to change it, simply peel it off and start again. Just get creative and see where it takes you!
This pretty mirror was decorated for Valentine using a few stencils and Peelable Glass Paint. Swan White was used with the rose stem painted in Moorland Green. For such small stencil decorations only a small amount of Peelable Glass Paint is needed, painted on using a dabbing motion with an art brush.
At Christmas time I decorated the mantlepiece mirror with seasonal stencilling to make the room even more festive. Again only a small amount of Peelable Glass Paint was needed and painted on with a dabbing motion being careful not to smudge the paint under the stencils, however it's really easy to tidy up splodges by either wiping off when wet or picking off when dry.