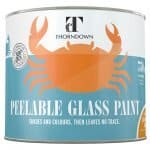 Peelable Glass Paint on Mirrors
Brighten up mirrors easily by painting on glass paint designs freehand or using stencils with Thorndown's Peelable Glass Paint. Transform rooms for the season, add a personal message or detailing to match your interior design.
With so many colours to choose from there's nothing you can't do and when you want to change it, simply peel it off and start again. Just get creative and see where it takes you!