Peelable Glass Paint is a simple way to decorate windows including shop windows.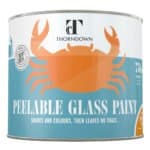 The paint has great eco-credentials as it is made with a 100% recycled plastic resin, is water-based with virtually no VOC (volatile organic compounds) or odour so is perfect for use by children and adults. It can be used externally or internally and uses VOC free colour pigments that stay stay strong and true for many years.
It is designed so that you can peel the paint coating away when you want to remove it and old coatings can be returned to the factory for recycling.
However, if you like the design then just leave it on and it will create a hard-wearing, water-repellent coating that will last for many years.
Screening with Peelable Glass Paint
For shading, screening or painting a large area it is best to apply it using a roller with a foam sleeve.
When Classics Reclamation were renovating their shop they used Peelable Glass Paint to screen off the windows so passersby couldn't see what was going on, keeping building work and the transformation hidden until they were ready for the grand reveal.
At Christmas time they even removed some of the screening to decorate the upper parts of the windows with a wintery scene, full of snowflakes and snowmen.
After the renovation was finished they simply peeled away the paint coatings to reveal a glorious new shop behind, filled with lovely new stock ready to adorn people's homes.
Painting Decorations with Peelable Glass Paint
You can also get creatively artistic or hire an artist with the talent to create beautiful scenes or decorations.
For art work Peelable Glass Paint can be applied by brush and there are 14 translucent and 24 opaque colours to choose from. All of the paint colours can also be mixed together to create any colour and shade you need.
During lockdown an artist was hired by their client to lift their spirits and transform their windows into the most beautiful pictures.
Marti created a series of stunning scenes of nature from garden birds to butterflies and flowers that will bring much joy to the client for many years.
Shop Window
A group of artists called the Rhizome Artists' Collective were hired by a new local shop to transform their windows for their opening. Green Shoots Eco in Plymouth is a zero waste shop so the eco-credentials of Peelable Glass Paint really appealed to them.
The artists created a couple of windows to announce the name and core message of the shop, attracting local press attention and shoppers.
An ocean scene was painted on one window to highlight the battle against plastic waste being dumped in the seas and oceans, and the other window was beautifully painted with the shop name styled as if it was plant-based, and gorgeous flowers and lush shoots curving and winding sinuously across the window.
On the launch day local children were invited to come along and decorate glass bottles and plastic jars with Peelable Glass Paint ready to be filled with shop goods.
We hope that the shop will be a huge success and that we continue to see more of these local shops spring up and thrive.