Conservatory Shading with Peelable Glass Paint
Conservatories are a wonderful way to extend your home and bring it into the garden, creating a light and airy space.
However, at times of the year the glare of the sun can make a conservatory uncomfortably hot and difficult to use with the sun shining into eyes.
Installing blinds can be very expensive and although attractive, can just collect dust and bugs. Companies also offer roofing solutions which again, can be very costly.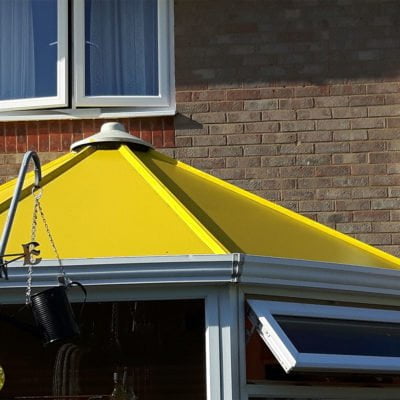 A simple solution to conservatory shading is Thorndown's Peelable Glass Paint. At just £26.00 for a 750 ml tin you can paint up to 9m² of glass or if only a small area needs shading the 150ml tin covers up to 1.8m² and costs only £6.50.
Peelable Glass Paint comes in 24 heritage colours to match joinery colours from the Wood Paint range, and 14 translucent colours so you have plenty of choice. It is made with a 100% recycled plastic resin, is water-based and made with architectural exterior-grade VOC colour pigments that perform at the highest levels in lightfast and weather-resistance tests.
You can paint Peelable Glass Paint internally or externally. For best results apply with a foam sleeve on a roller as this gives the smoothest finish to the coating. One coat is normally enough but you can leave it to dry for 4-8 hours depending on how hot and dry it is and apply a second for a more opaque coating.
The conservatory pictured here was painted externally with Griffin Gold Peelable Glass Paint for a warm summery feel. When painting externally it is best to try and do it in the summer when the weather is fine and dry. Painting in the spring can be challenging as drying time is greatly extended with cold night time temperatures and humidity and condensation levels high, especially with heavy morning dews.
These poor night conditions will negatively impact on the drying process and although the coating will appear dry and be touch dry, it will not cure and bond to the glass properly.
If the paint hasn't had enough time to dry and bond completely, any rain can get under the coating causing slippage, or break it down, and/or wash it off.
Originally designed as a greenhouse shading paint, it will allow some transfer of light to come through the coating, otherwise plants would struggle. This does mean that when light passes through the coating you will see the application marks but viewed from the outside with no light passing through the coating, it appears opaque.
On this conservatory the central two panes were making it uncomfortable to use in summer. Preparing the glass panes was simple with a sweep over to remove cobwebs and quick clean of the glass. Peelable Glass Paint was applied using a radiator roller although a normal full sized paint roller can be used on larger panes, as that also reduces the number of application marks.
Load a decent amount onto the roller and apply with smooth actions, painting in straight lines that join up to the neighbouring section. If you spread the paint too thinly you'll get a patchy coating and it will be difficult to peel off.
At the end of the summer if you don't want the shading panels anymore then just pick at a corner until you can get a section of the coating in your fingers, then peel off the sheet to remove it!
If the coating was thin and has been dried out by the sun then you may need to spray it with water to rehydrate the coating, restoring the elasticity and enabling you to peel it off.
You can also add stencils or freehand designs on top of dried coatings, or stencil on first and roller another colour on top for a lovely decorative effect. This conservatory was often used as an office and a music room so musical notes were painted on to one pane of glass.
One panel was painted in Chantry Cream to match the blinds and the other in Sedge Green to integrate it into the garden beyond. When the panels were viewed from the garden you couldn't even see the shading.
Thorndown's Peelable Glass Paint is a simple, cost-effective and attractive solution to conservatory shading!!