Thorndown Awards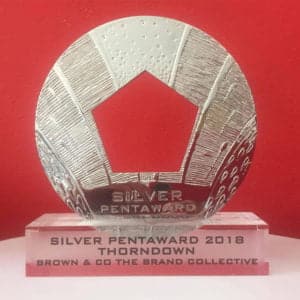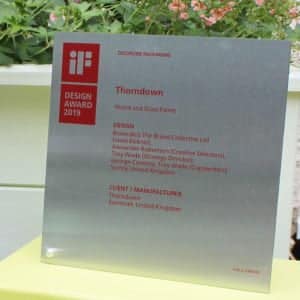 This stand-out new brand has won two prestigious awards for branding design, being an acclaimed Silver Pentaward 2018 and highly sought-after iF DESIGN AWARD 2019.
Thorndown Brand & Packaging News
Thorndown's revolutionary tin design, packaging and branding are being recognised for their innovation and style. We worked with the incredibly talented Brown&co agency to create the Thorndown paint brand and packaging range.
To reflect our West Country nature we have used language that is entertaining and easy to read and understand. This is why we have been shortlisted for a Design Week award for writing!
The paint tins are a unique design that solves many of the annoying frustrations of a painter. Firstly the tin opening is wider to allow easier access for brushes. The tins have also been made wider and shorter so they have a better centre of gravity and are more stable, leading to a lower likelihood of them falling or being knocked over.
And finally, there is a gap of about 1cm in each tin from the top of the paint line to the tin top so when you stir your paint, it doesn't immediately slop all over and down the sides of the tin.
Branding design has been carefully thought out to be fun, attractive, easy to navigate and understand. The colours and animal characters reflect the West Country Thorndown personality, love of nature, perfectionism and strong eco-credentials.
We hope that these design improvements add to the fun, practicality and beauty of using Thorndown paints!
The design process is described in these articles and it's no wonder that the brand packaging design has been entered into so many awards!!
Design Week award for writing!  Packaging World article  Retail Packaging article
Brand Packaging Magazine article  Packaging of the World article
Nub News
News and articles are also often found in our lovely local press covering both Glastonbury and Wells.
Wells Journal – June 2018