We are very excited to be adding 6 new colours to the Somerset Heritage Colour Collection, being officially launched in March 2022.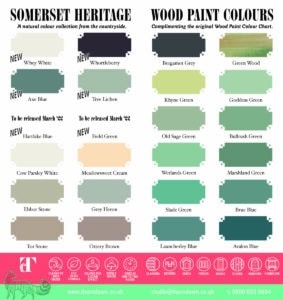 These wild and natural tones bring an extra dimension to the beautiful greens, blues, creams and hedgerow colours of the Somerset Heritage Colour Collection.
However, Garden Answers are having a sneaky preview of 4 of the new colours and they're appearing in a colour feature in the July issue, which hits the shelves on 29th June 2021. So although these colours aren't officially being launched and added to the Wood Paint range until March 2022, we'll be adding these 4 new colours to the online shop in case readers fall in love and want to order them.
As with the existing 18 colours within the collection, these new colours are inspired by the Somerset countryside. Axe Blue is a moody, smoky blue with a grey hue, reflecting the watery depths of the River Axe as it flows through Somerset on its journey to the English Channel.
The subtle grey green of Tree Lichen is a beautifully gentle shade inspired by the lichen that is so prevalent in the southwest of England where the clean air provides the perfect environment for it to grow.
Whey White is a refreshingly natural cream fresh from the dairy farms of Somerset, and Whortleberry brings a deep dark purple plum colour to the collection, inspired by the wild blueberries of Somerset that go into Bumblees Preserves Whortleberry jam.
The official launch of all new colours will take place at The Garden Press Event in London in March 2022 where Field Green and Hartlake Blue will be revealed.
Explore the wilds of Somerset with Thorndown Wood Paints and discover new colours that you'll want throughout your home and garden.