Author Naomi Slade Shares Decorative Shading Tips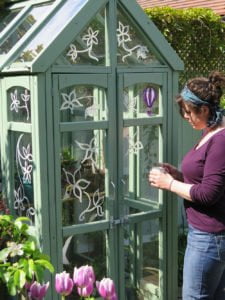 In the 23rd May issue of Garden News, prolific journalist and garden writer Naomi Slade, shared some lovely ideas for partially shading your greenhouse with Thorndown Peelable Glass Paint.
Often you don't want to shade out an entire panel in your greenhouse but need to reduce the strength of the sun coming through so it doesn't scorch plants. Naomi got artistic with some 150ml tins of Peelable Glass Paint and a brush, creating beautiful freehand flowers on the windows of her Forest Victorian Walkaround Greenhouse (painted in the jewel-like Slade Green Wood Paint). This decorative shading means that her tender plants and crops such as tomatoes, can still soak up the sun but be protected from the worst of the strength.
She also added hot air balloons in honour of her home city Bristol, where hot air balloons are a regular feature in the sky.
Thorndown Peelable Glass Paint is water-based and made with a 100% recycled plastic resin that makes it hard-wearing, but also peelable so you can peel it off at the end of the season. It can be painted on externally or internally and if you like what you've painted then just leave it on and it will last for years!
If you're not a confident artist then you can use stencils to create whatever you like, or buy one of the Peelable Glass Paint Craft Packs which come in a variety of themes.
As Naomi says though, mistakes are easy to tidy up or remove so don't be afraid to have a go. I always love reading a garden magazine article written by Naomi as they're so uplifting, informative and inspirational. If you like what she writes then you'll love her books. She has just released one on Hydrangeas and has written many more on some of the nation's favourite flowers. I know I'll be treating myself and some loved ones to this book to explore a loved plant from my childhood that is bounding back into gardener's hearts.