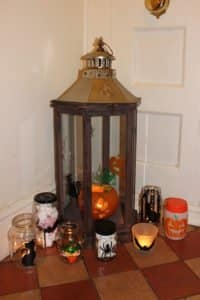 Thorndown's Peelable Glass Paint makes transforming your home for the season enjoyable and easy to do. Paint windows and objects on your own or with the kids, creating a Halloween Haven or Christmas Grotto.
It's so easy to use Peelable Glass Paint and a great way of reusing lots of old household objects like jam jars.
Peelable Glass Paint is made using a 100% recycled plastic resin, is non-toxic, low in odour and virtually VOC free so great to use for everyone including the environment and kids.
Using stencils is an easy way to get great results and you can paint on with a brush or using a sponge, like an old washing up sponge.
You can paint it on glass windows and items, plastic, tiles and any shiny surface, then peel it off when you no longer want or need it. Old coatings can be sent back to our factory in Glastonbury where they will be processed for recycling.
Read more for tips, inspiration and how to videos.