Timber Planter Garden Extensions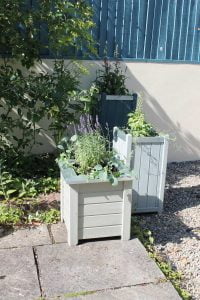 I've been growing my own veg for a few years with varying degrees of success. This year many seeds germinated and grew on to be healthy young plants, which was great but I ran out of space very quickly in my veg beds.
As a solution I used some timber planters to extend my plot and at the same time created a nice border between the veg beds and my drive.
To protect timber planters you do need to paint them with Wood Paint which will seal them against the weather and rain ingress, which leads to rot and deterioration or damage to the planter. It also gives you the opportunity to use colour to create garden design features that compliment the planting and look lovely in the garden.
[fusion_button link="https://thorndown.co.uk/projects/grow-extra-space/" title="" target="_blank" link_attributes="" alignment="center" modal="" hide_on_mobile="small-visibility,medium-visibility,large-visibility" class="" id="" color="custom" button_gradient_top_color="#f15a5b" button_gradient_bottom_color="#f15a5b" button_gradient_top_color_hover="" button_gradient_bottom_color_hover="" accent_color="" accent_hover_color="" type="" bevel_color="" border_width="" size="" stretch="default" shape="" icon="" icon_position="left" icon_divider="no" animation_type="" animation_direction="left" animation_speed="0.3″ animation_offset=""]READ MORE[/fusion_button]