Garden Answers Feature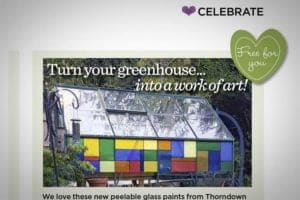 If you're an avid reader of this great gardening magazine (like me!) then you will spot Thorndown's Peelable Glass on page 11 of the April issue.
It features a picture sent into us by one of our customers who decorated her greenhouse in an art-deco stained glass style. Linda removed her panes of glass, giving them a good clean then rinsing thoroughly with water to remove any muck or film that could block or repel the glass paint. She applied the translucent glass paints using a roller with a foam sleeve as they soak up less paint and leave a nice smooth finish. Linda only applied one coat but you can paint on a second for a more solid/opaque coating.
We think it looks great and is a quick and easy way to brighten up a greenhouse through the winter months. On a practical level it offers shading and screens untidy seed trays waiting to be cleaned for the new sowing season.
By planning your design and colour scheme, using Peelable Glass Paint can also turn your greenhouse into an attractive feature and part of your garden design.
We have teamed up with Garden Answers magazine to give away 20 x 150ml tins of Peelable Glass Paint in a colour of your choice. To enter all you have to do is send them a postcard or email (address details on p101 of the magazine) with your name, address and favourite colour. Good luck!
Grow Your Own magazine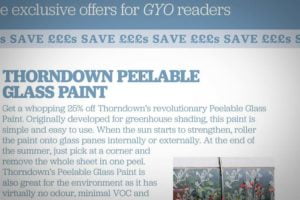 Thorndown Peelable Glass Paint is appearing in the April issue of Grow Your Own magazine, out now!
Each month they have a discounts page where they team up with select companies to offer their readers some great discounts and the April issue is brimming with them. It includes a 25% discount off 750ml tins of Peelable Glass Paint in Swan White or White Witch greenhouse shading paint from us, and discounts from Waltons Sheds and Greenhouses, RHS Flower Show in Cardiff, and Hayes Garden World. Turn to page 110 and bag yourself some great deals.
If you're not already a reader then pop down to your newsagents and pick up a copy of this very practical magazine full of great features and fab tips on growing and gardening successfully.
Grow Your Own Magazine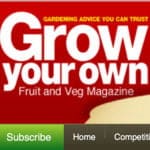 Thorndown is giving away a special discount code to readers of GYO magazine so if you haven't already got your January edition, nip to your newsagents and grab a copy!
Packed full of great articles, tips and advice it's a really good gardener's guide and the discounts page can save you pounds.
The English Garden Magazine

We are very proud that Thorndown Paints are featured in a great article by the brilliant English Garden Magazine.
Editor Clare Foggett, writes with good advice on what to do in the garden while the long hot summer continues. While it may be difficult conditions to bring on new plants it's the perfect weather conditions to bring colour to your garden and protect your timber products with lashings of Wood Paint.
Read the article, get inspired and get painting!
Thorndown Wood Paint on Love Your Garden
The brilliant garden transformation series Love Your Garden returned to ITV1 on Tuesday 24 July 2018, starring Thorndown Wood Paints in the first episode of the series!
A very inspirational Betty had the Titchmarsh Team Treatment with fencing, brick walls, pergola and terracotta pots painted with our Greymond Wood Paint, brightening up the garden and making it easier for Betty to see. The beautiful Forest Henley Summerhouse was painted with Bishop Blue Wood Paint using Greymond as an accent highlight on frames.
Having previously worked with the series over the years we were delighted to be selected as a supplier in the same year that we launched Thorndown paints. Ben Thornborough, Thorndown Managing Director, could even be seen on episode one helping the lovely Thea paint everything in sight.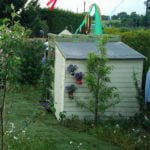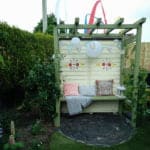 In Episode 4 fresh and pretty Parlyte Green and lush Reed Green were used in the festival themed garden of a very brave and inspirational woman.
Industry legends Alan Titchmarsh and David Domoney work with the very talented Katie Rushworth and Frances Tophill to create incredible garden designs transforming people's lives. Colour plays a very large part in garden design and painting wood paint on items such as fences, benches and summerhouses are a great way to create a feature and tie these elements into the design. It's a great and easy trick to use in your own garden!
Garden Answers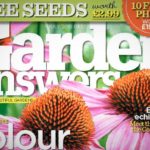 We are delighted to be featured in the July issue article 'Colour up Your Garden' that discusses the virtues and design tips for using wood paint and wood stain in the garden.
Garden Answers magazine is one of my favourites, brimming with garden features, practical tips and advice, and of course, beautiful photography to pore over. Page 98 lists some paints on the market including our very own Thorndown Wood Paint.
It offers a simple comparison from the cheaper end of the market with lower-quality solutions such as Cuprinol Garden Shades and Ronseal Garden Paint to the higher end, Farrow & Ball and Thorndown. We know that the ingredients we use are of a higher quality compared to all of these brands making our wood paint the best value and a great choice!
Thorndown's Goblin Blue and Rowan Berry Red Wood Paint were also selected for the 'Freshen walls & woodwork' article on page 100, giving some great design ideas for colour combinations.
Thorndown Brand & Packaging News + Awards!
Thorndown's revolutionary tin design, packaging and branding are being recognised for their innovation and style. We worked with the incredibly talented Brown&co agency to create the Thorndown paint brand and packaging range.
To reflect our West Country nature we have used language that is entertaining and easy to read and understand. This is why we have been shortlisted for a Design Week award for writing!
The paint tins are a unique design that solves many of the annoying frustrations of a painter. Firstly the tin opening is wider to allow easier access for brushes. The tins have also been made wider and shorter so they have a better centre of gravity and are more stable, leading to a lower likelihood of them falling or being knocked over.
And finally, there is a gap of about 1cm in each tin from the top of the paint line to the tin top so when you stir your paint, it doesn't immediately slop all over and down the sides of the tin.
Branding design has been carefully thought out to be fun, attractive, easy to navigate and understand. The colours and animal characters reflect the West Country Thorndown personality, love of nature, perfectionism and strong eco-credentials.
We hope that these design improvements add to the fun, practicality and beauty of using Thorndown paints!
The design process is described in these articles and it's no wonder that the brand packaging design has been entered into so many awards!!
Design Week award for writing!  Packaging World article  Retail Packaging article
Brand Packaging Magazine article  Packaging of the World article