The Bike Shed Co and Thorndown Wood Paints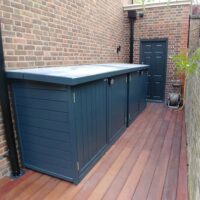 This lovely company design and manufacture a beautiful range of bike sheds from their bases in Bristol. Every building is hand built using sustainable UK Douglas Fir timber so that they look great and last for years and years.
They spray paint the majority of their builds with Thorndown Wood Paint colours selected by their customers. It delights us that they think our wood paint is of the highest quality and is also really easy to spray, producing a great finish and colour definition.
Their customers also benefit from the fact we can supply them with over 1800 colours from the RAL Classic and Design ranges in addition to our colour chart.
It's not surprising that with their high levels of quality and design, they have customers in the pop music elite and ship to New York where their builds are in high demand. The Bike Shed Co also design and build bin stores and offer a bespoke design service. Their brilliant designs are really secure and offer practical solutions to urban living where you don't have to drag a dirty bike through your home, but ride up and pop it into your stylishly attractive bike shed that also gives great kerb-appeal.
We're delighted to supply them and always enjoy dealing with such a great company.
For more information you can visit their website or call them on 0117 244 0117.