Toby's Garden Festival May 2019
We returned to Powderham Castle this year for the Toby Buckland Garden Festival from Friday 3rd to Saturday 4th May.
Along with a fantastic collection of nurseries, arts & crafts stalls, food and drink, and of course, paint, there were some fab celebrity speakers. Joe Swift, Frances Tophill and John Challis will gave talks over the two day festival to packed audiences.
It was lovely spending time at such a beautiful venue and proved to be a brilliant garden festival bathed in sunshine all weekend!
Middlecombe Nursery Landscape Forum – Friday 8 March
On Friday 8th March, Middlecombe Nursery put on a Landscape Forum at their plant nursery in Congresbury, just outside Bristol.
There were talks from LandscapePlus, Middlecombe, Avon Wildlife Trust, and us, giving a short talk on Thorndown paints. The afternoon was wrapped up with amazing homemade pizza cooked in their pizza oven with sourdough bases made by their in-house chef.
The afternoon was well attended by landscape designers and gardeners from across the county.
It was great to be part of such an interesting and informative event, and the pizzas were incredible!
Wake Up Wells – Glass Painting Workshop
On Saturday 26 January we put on a FREE workshop as part of Wake Up Wells Community Day at Wells Cathedral.
We supplied Peelable Glass Paint, art materials and boxes of old glass jars, although some brought along their own glass items to paint. One talented lady brought a sheet of glass that was destined for the recycling bin and turned it into a piece of art with our glass paint. With a paint brush and imagination she re-created an impressive countryside scene.
Another lady brought in a lantern and created a beautiful stained glass effect by first painting black lead lines in traditional diamond patterning using a card template. Once she had finished painting on all of the lines the first panel was dry so she could then start filling in the diamonds with a variety of translucent Peelable Glass Paint colours.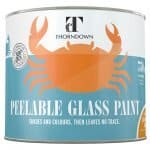 There was a great mix of all ages that came up with some great designs. One thing I love about these workshops is seeing people experiment with different techniques and this session was no exception. One lady perfected a marbling technique that got others hooked on the process. Once you get the hang of it this is a very simple but effective way of creating some great pieces that sit up against fine pieces of glass art. As soon as we can we will create a video to demonstrate the process and share it with you.
Peelable Glass Paint is water-based, has minimal VOC and low odour, and is non-toxic, making it a great paint to work with no matter what the project.
If you need any inspiration then head to the Projects page for ideas and tips.
Christmas Windows with Peelable Glass Paint
Christmas comes but once a year so make the most of it and decorate like crazy!
I love having an excuse for getting out metres of tinsel and twinkling lights to adorn the house. Candles and evergreen displays add to the beauty of the festive interior, not forgetting the Christmas tree, the star of the show.
It's also a great time to get out your paintbrushes and create festive scenes on mirrors, windows and glass doors with Thorndown Peelable Glass Paint. Have a look at the simple blog to get tips and advice on creating your own Christmas windows.
Pretty in Pink at RHS Hampton Court Flower Show
RHS Hampton Court Flower Show is one of my favourite RHS shows. Set in a beautiful location it attracts some of the best garden designers and exhibitors, placed in a relaxed atmosphere where you can happily meander and explore for hours.
Although we can't get to Hampton Court Flower Show this year our Wood Paint has, on the stand of Floyd's Clematis & Climbers, a clematis specialist and RHS regular award-winner.
Marcel teamed up with Forest Garden to create his display stand, using their Toulouse Planters and Kendal Square Planter Sets to form the structural surround. Painted with our very own Cheddar Pink Wood Paint, Marcel's clematis look stunning and are sure to be a hit so if you're lucky enough to be going, make sure to visit him!
Thorndown Wood Paint hits Chelsea
When Forest approached us to see if we'd like to supply some wood paint for Chelsea Flower Show, the answer was a very quick yes! On a number of occasions Forest have supplied garden products for the HTA (Horticultural Trades Association) and this year one of the star features in the HTA garden was the Forest Ultima Pergola sitting alongside one of their gazebos.
The wonderfully talented designer Chris Collins had been enlisted and created something pretty special. He used Yew Green Wood Paint on the pergola and we love the way that the planting and accessories work beautifully with the naturally deep and naturally intense Yew Green colour. Yew Green is one of those colours that just takes you away into a magical forest landscape or into a classical heritage home of pure class and distinction.
It looked beautiful and although we didn't manage to escape to Chelsea this year, a piece of us went instead and did us proud. We hope you love this colour as much as we do.
Forest Garden paint up with Purple Rain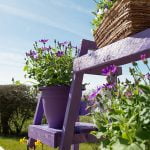 The brilliant UK manufacturers of quality garden furniture, buildings and decorative products, Forest, teamed up with Thorndown to decorate one of their great new products.
We created our version of Pantone's Colour of the Year 2018, Ultra-Violet and dubbed it Purple Rain in homage to the musical genius that recently departed our mortal plane. Forest painted their Plant Ladder Display in Purple Rain, transforming it into a striking and attractive garden feature.
Read the article by Forest Garden here.
Bishop's Palace English Garden Festival
Thanks to all who came to see us at the beautiful Bishop's Palace in Wells, Somerset where we exhibited our range of products at the English Garden Festival from Friday 22 June to Sunday 26 June. This festival is one I always look forward, surrounded by the stunning gardens and amazing architecture of the Palace in the heart of the historic city of Wells. A day of gardening fun, top guest speakers and the best shopping in the city and at the festival!
Open Farm Sunday at Middlewick
On Sunday 10th June we went to Middlewick Farm in Glastonbury taking part in Open Farm Sunday, the farming industry's national open day. We showed off our great range of Wood Paint and ran fun crafty workshop sessions with our Peelable Glass Paint.
Kids (and adults) were able to play with Thorndown Peelable Glass Paint, decorating mirrors and turning old jam jars into wonderful creations to take home.
It was  a great day with lots of other local stallholders, entertainment, birds of prey, face painting and general farm fun. Middlewick Farm and the stall holders raised a lot of money for local Glastonbury charity, Children's World.
Toby's Garden Festival at Powderham Castle
Despite the rain we had a great time at Toby's GardenFest at Powderham Castle. Toby and his team worked valiantly to battle the mud and hordes of gardeners shrugged off the rain to enjoy the show. Thank you to everyone who came and visited us and don't forget to use your Show Discount Vouchers!
Local Gardener article
Following our launch to journalists at the Garden Press Event in London's Business Design Centre back in April, we received our first piece of coverage in the online gardening newspaper for the industry.