WINTER GIVEAWAY – * WINNER *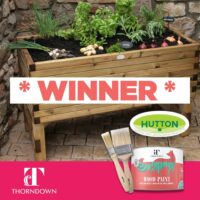 After such a stormy and tumultuous weekend it's great to have some good news to announce.
We would like to say a massive congratulations to brummiemummie who was selected at random as the winner of the Winter Giveaway bundle!!
Thank you to everyone who took part and made the competition so much fun. It was great to see what everyone's favourite colours were from our Wood Paint colour chart. Sedge Green and UV Clear were the top selections with people also going for bright splashes of colour with Purple Divine and Purple Rain popping up as frequent choices.
We hope you enjoyed taking part in the competition and that it's inspired you to get ready for the growing season. It's definitely got me inspired to start sowing early vegetable seeds in the greenhouse and to start prepping the veg bed with lots of lovely homemade compost.
If you fell in love with the Raised Vegetable Planter then you can buy it from garden centres and timber merchants across the country. Call Hutton on 01452 760994 to find out where your nearest stockist is.
As a massive thank you to everyone who took part we would like to offer you a discount code of 20% off all paint products in our online shop. Just enter WINTERCOMP20 in the 'Apply Coupon' box in the basket area. The voucher is valid until 30th April 2020 so there's plenty of time to plan that project.
There will be more competitions throughout the year so look out for announcements in the newsletter and on our social media channels. Happy gardening!
COMPETITION DETAILS
In the last of the current series of giveaway competitions in association with Hutton, we have a fabulous Raised Vegetable Planter up for grabs.
It's another great Hutton design made with top quality timber and joinery skills that ensure your product is built to last. Being 76cm high it makes gardening nicely accessible and less of a back-breaking task. The planter measures 1.2m wide by 60cm deep so will fit nicely into a small garden or on a balcony.
Dust off your gardening gloves, rub your lucky charm and get ready to enter when the competition opens on Friday 31st January 2020.
As with the other giveaway competitions you also get to choose a 2.5 litre tin of Wood Paint in your favourite colour from our colour chart or any of the RAL Classic and Design colours. We also make a UV Clear Wood Paint if you'd like to preserve the natural timber look. Although Hutton timber products are really well made and pressure treated to stop rot, you still need to protect them against the weather and the perfect choice is our stunningly brilliant Wood Paint! You'll also win a pair of Harris T-Class Delta 1″ and 3″ brushes, perfect for a great paint job.
The competition runs until midnight on Friday 14th February 2020, with the winner being announced on Monday 17th February 2020. Good luck!!
Giveaway Prizes
• A beautiful hand-crafted Cotswold Raised Vegetable Planter
• A 2.5 litre tin of Thorndown Wood Paint in the colour of your choice
• A pair of Harris T-Class Delta paint brushes in the 1″ and 3″ size options
Competition Instructions
If you don't already follow us then follow @ThorndownPaints on

Instagram

, Facebook or both. If you already follow us then thank you! Alternatively you can enter by signing up to our monthly newsletter where all new subscribers within the competition period will be entered into the competition.
Like the competition post
Say in Comments 

what colour

 from the Thorndown Colour Chart you'd choose to paint your Raised Vegetable Planter. Why not spread the joy by tagging and sharing friends & family too?
Competition Terms
Competition run by Thorndown Ltd.
The competition runs from Friday 31st January to Friday 14th February 2020
Competition closes at midnight on Friday 14th February 2020
You must be 18 years old or above and live in the UK
Winner will be chosen at random and announced on Monday 17th February 2020
Prizes will be delivered FREE to 1 UK mainland address
This competition is not affiliated with Instagram or Facebook

Hutton Garden Products manufacture a wonderful range of timber garden products. They are available from garden centres and timber merchants nationwide. You can view their full range on their website and call them on 01452 760994 to find out where your nearest stockist is.
We teamed up with them this summer on a shoot at The Bishop's Palace in Wells to showcase their new products for the 2019/20 season, painted up with Thorndown Wood Paint. A selection of the photos below show just how beautiful they are!