Best Selling Colours – 2019
Colour design and the use of colours is a vast and fascinating world that surrounds and influences our everyday. Whilst fashions come and go, style remains fairly constant with favourite colours largely remaining the same for long periods of time.
Here we review the best-selling colours for Wood Paint and Peelable Glass Paint in 2019.
Wood Paint Top 20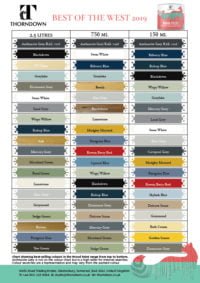 Favourite colours within this range vary according to pack size as their uses change. 150ml tins are used for anything from samples to test colours for large jobs, to smaller craft and upcycling projects. The larger 2.5litre tins tend to be used for painting larger objects such as sheds and summerhouses so colours tend to be from a more traditional palette.
The leader across all pack sizes however is RAL 7016 Anthracite Grey. This colour is widely used in construction and by architects and designers. The cool and classic depth to this shade of grey makes it a very popular choice as it bridges and transcends all fashions, contrasting with pretty much every colour imaginable and working on any object or construction.
Blues, greens and greys lead the charts across all pack sizes with natural wood tones in the larger 2.5l and 750ml options. Cool and contemporary tones definitely lead the way in the 2.5l chart where timber buildings tend to be painted to sit in with and compliment the natural palette of the garden.
Pops of colour spring up in the smaller sizes with the bright tones of Mudgley Mustard, Rowan Berry Red and Golden Somer appearing as popular choices.
Firm favourites appear in all sizes with unique and attractive colours such as Greylake, Dormouse Grey, Wispy Willow, Bishop Blue, Zinc Grey and Peregrine Blue appearing in all 3 charts.
Whilst shades and hues vary, popular colours tend to be pretty constant when it comes to decorating and pleasing the eye.
Peelable Glass Paint Top 20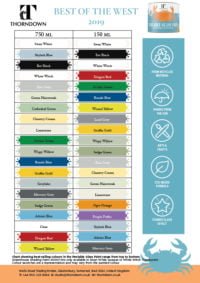 For Peelable Glass Paint the game changes radically between pack sizes. The larger 750ml tins are predominantly used for shading in greenhouses, conservatories, balcony screening and commercial properties leading to a palette predominantly built with natural heritage tones.
Skylark Blue sits prettily at the top of the chart with Bat Black, Swan White and White Witch leading the shades.
However some of the more vibrant translucent colours enter the chart with the fresh and vibrant Goblin Green, 'Classic Blue' of Bandit Blue and warm, sunny Griffin Gold the most popular choices. Dragon Red and Wizard Yellow brighten up the bottom with Clear offering a frosted window look that suits anywhere.
150ml tins go a long way so are used across the full spectrum from shading to arts & crafts. This sees a lovely jumble of heritage opaque tones with bright primary translucent colours, but black and white still take the top of the chart.
2018 Trends
Favourite colours vary slightly over the years and these charts demonstrate the ups and downs in the world of colour. Natural wood tones, greens, greys and blues remain popular and work well within the home and garden.