Garden Answers Feature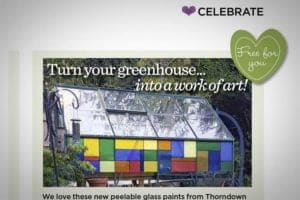 If you're an avid reader of this great gardening magazine (like me!) then you will spot Thorndown's Peelable Glass on page 11 of the April issue.
It features a picture sent into us by one of our customers who decorated her greenhouse in an art-deco stained glass style. Linda removed her panes of glass, giving them a good clean then rinsing thoroughly with water to remove any muck or film that could block or repel the glass paint. She applied the translucent glass paints using a roller with a foam sleeve as they soak up less paint and leave a nice smooth finish. Linda only applied one coat but you can paint on a second for a more solid/opaque coating.
We think it looks great and is a quick and easy way to brighten up a greenhouse through the winter months. On a practical level it offers shading and screens untidy seed trays waiting to be cleaned for the new sowing season.
By planning your design and colour scheme, using Peelable Glass Paint can also turn your greenhouse into an attractive feature and part of your garden design.
We have teamed up with Garden Answers magazine to give away 20 x 150ml tins of Peelable Glass Paint in a colour of your choice. To enter all you have to do is send them a postcard or email (address details on p101 of the magazine) with your name, address and favourite colour. Good luck!
Grow Your Own magazine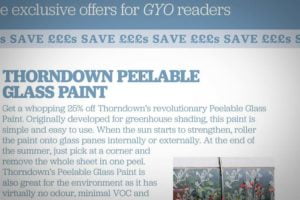 Thorndown Peelable Glass Paint is appearing in the April issue of Grow Your Own magazine, out now!
Each month they have a discounts page where they team up with select companies to offer their readers some great discounts and the April issue is brimming with them. It includes a 25% discount off 750ml tins of Peelable Glass Paint in Swan White or White Witch greenhouse shading paint from us, and discounts from Waltons Sheds and Greenhouses, RHS Flower Show in Cardiff, and Hayes Garden World. Turn to page 110 and bag yourself some great deals.
If you're not already a reader then pop down to your newsagents and pick up a copy of this very practical magazine full of great features and fab tips on growing and gardening successfully.