On Saturday 26 January Thorndown Paints are putting on a FREE workshop as part of Wake Up Wells Community Day.
It's a drop-in session running from 10.30am – 12 noon in Wells Cathedral's Education Room, full of light and glass just waiting to be decorated!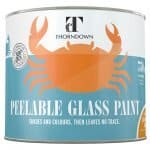 All materials will be supplied including the unique and pretty revolutionary Peelable Glass Paint. It's water-based, has minimal VOC and low odour, and is non-toxic. Most excitingly it peels off any shiny surface! But not clothes so don't wear your Sunday best.
Bring along any glass, plastic, tiled or mirror item that you'd like to paint. If nothing is to hand then just bring your imagination as there will be spare jam jars provided.
If you need any inspiration then head to the Projects page for ideas and tips.
There's space for a maximum of 60 people at a time so please register via the Wake Up Wells Eventbrite page. Look forward to seeing you there!