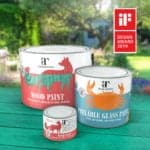 So proud that we have picked up another amazing award for the design and branding of Thorndown. We were so lucky to work with a world-class team at Brown&co that got us, and understood what we wanted to achieve.
They took our dream and created a thing of beauty that fully conveys all that we and our product stands for. It's amazing to have Thorndown and the design work recognised internationally and delighted that so many people think it's as great as we do!
iF DESIGN AWARD 2019
The iF DESIGN AWARD is one of the most important design prizes in the world. For 65 years, designers and manufacturers have strived to win the internationally renowned iF label for design.
Winning an iF DESIGN AWARD is a seal of quality for exceptional design and outstanding services. For consumers and users, it is a symbol they can trust.
The latest trends, innovation and uniqueness are reflected in the awarded submissions in the following disciplines: Product, Packaging, Communication, Interior Architecture, Professional Concept, Service Design / UX and Architecture.
LAST BUT NOT LEAST: After an intensive three-day jury session in Hamburg, the winners of the iF DESIGN AWARD 2019 have been selected – thanks to our international jury panel of 67 design experts!