Thorndown Wood Paint on Love Your Garden
The brilliant garden transformation series Love Your Garden returned to ITV1 on Tuesday 24 July, starring Thorndown Wood Paints in the first episode of the series!
A very inspirational Betty had the Titchmarsh Team Treatment with fencing, brick walls, pergola and terracotta pots painted with our Greymond Wood Paint, brightening up the garden and making it easier for Betty to see. The beautiful Forest Henley Summerhouse was painted with Bishop Blue Wood Paint using Greymond as an accent highlight on frames.
Having previously worked with the series over the years we were delighted to be selected as a supplier in the same year that we launched Thorndown paints. Ben Thornborough, Thorndown Managing Director, could even be seen on episode one helping the lovely Thea paint everything in sight.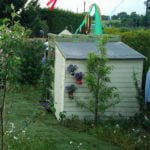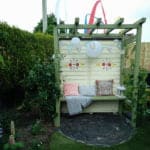 In Episode 4 fresh and pretty Parlyte Green and lush Reed Green were used in the festival themed garden of a very brave and inspirational woman.
Industry legends Alan Titchmarsh and David Domoney work with the very talented Katie Rushworth and Frances Tophill to create incredible garden designs transforming people's lives. Colour plays a very large part in garden design and painting wood paint on items such as fences, benches and summerhouses are a great way to create a feature and tie these elements into the design. It's a great and easy trick to use in your own garden!